Two years after NYS issued a Request for Expressions of Interest to develop 12.8 acres of the Harlem River Yards in Port Morris, Yimby has revealed that a massive project to include a soccer stadium and 550 "affordable housing apartments".
Behind this proposal is Related Companies partnered together with Somerset Partners (who spearheaded the ill-named Piano District and just a few weeks ago sold their development site for $165 million) who teamed up with New York City Football Club who, if you recall, was looking for a a soccer stadium to be built south of Yankee Stadium a few years ago.
If this proposal is chosen, this would be the city's first soccer stadium and it will be designed by starchitect Rafael Viñoly who designed Manhattan's 432 Park Avenue which is NYC's best-selling development to date with over $2 billion in condo sales.
Viñoly is no stranger to The Bronx having designed both the housing court on the Grand Concourse as well as The Bronx County Hall of Justice in Melrose on 161st Street.
Yet again, Bronxites will be shut out from the waterfront even though the plans call for some open access. Why can't we just have an open park like the Mott Haven-Port Morris Waterfront Plan set forth by South Bronx Unite years ago which received priority status by NYS in 2014?
This is, once again, our government not listening to the community and what they want or need and instead giving handouts to local developers rather than investing in the existing community.
According to the RFP issued by Related, they would only be paying $500,000 a year in rent for prime real estate that we all know is worth far more than that. Why are they being considered for yet another sweetheart deal like FreshDirect and the Yankees where the community ends up losing?
The location is also utterly ridiculous for a stadium for a variety of reasons including that it would place it on the busy approach to the Third Avenue Bridge along Bruckner Boulevard where trucks are zooming by.
What kind of traffic will that add to an area already suffering from some of the highest rates of asthma in the nation?
The nearest subway station at 138th Street and Alexander Avenue on the 6 line is 5-6 blocks away from the site and in order to get to and from there, pedestrians have to cross dangerous intersections created by the Major Deegan Expressway and Bruckner Boulevard where pedestrian fatalities are an issue.
The best use of this site is not a soccer stadium or "affordable" housing that won't be affordable for anyone who needs.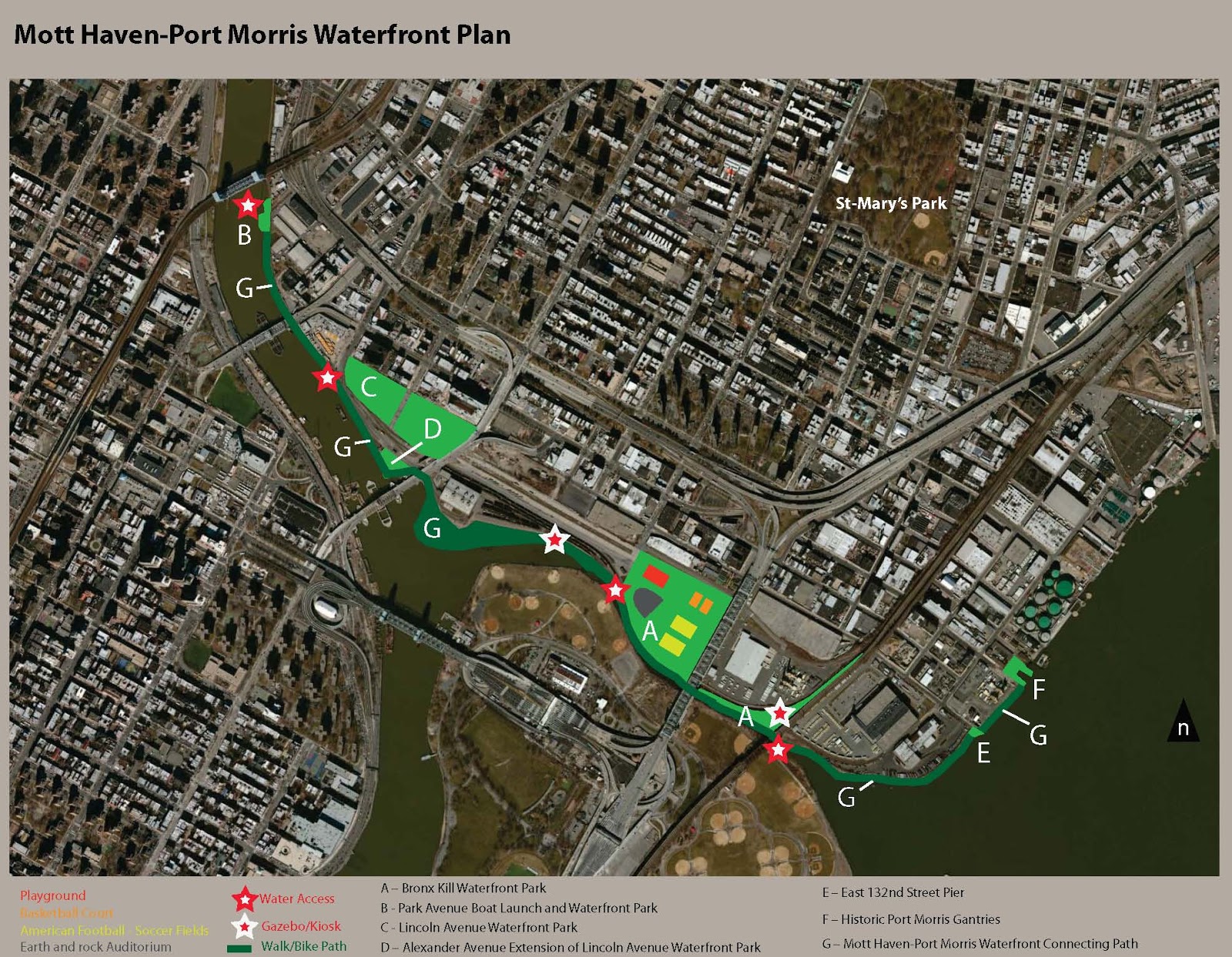 The best use is the proposed Mott Haven-Port Morris Waterfront Plan created BY the community NOT greedy developers who do not care about our quality of life and only offer up such "token" amenities like access to the waterfront (which belongs to the people anyway) and "community facilities.
The area was hit hard by Superstorm Sandy and was flooded considerably so why are we developing on the waterfront when we should be building resiliency for when (not if) the next big storm hits NYC?
All these renderings and proposed ideas might look cute on paper but in reality we already know that it does nothing for the poorest congressional district in the nation. It doesn't address the existing problems or helps them except in that it will just further accelerate displacement.
We deserve better than this.