A new report by Localize, an AI-driven site powered by data scientists and urban planners, has revealed the most dangerous areas for pedestrian and cyclists across the city.
Ironically enough it's the general Fordham and University Heights area where The Bronx's pilot bike share program has just launched in the past few weeks.
Particularly dangerous is the stretch of Jerome Avenue stretching from Fordham Road down south to Burnside where many of these incidents appear to have occurred according to the data.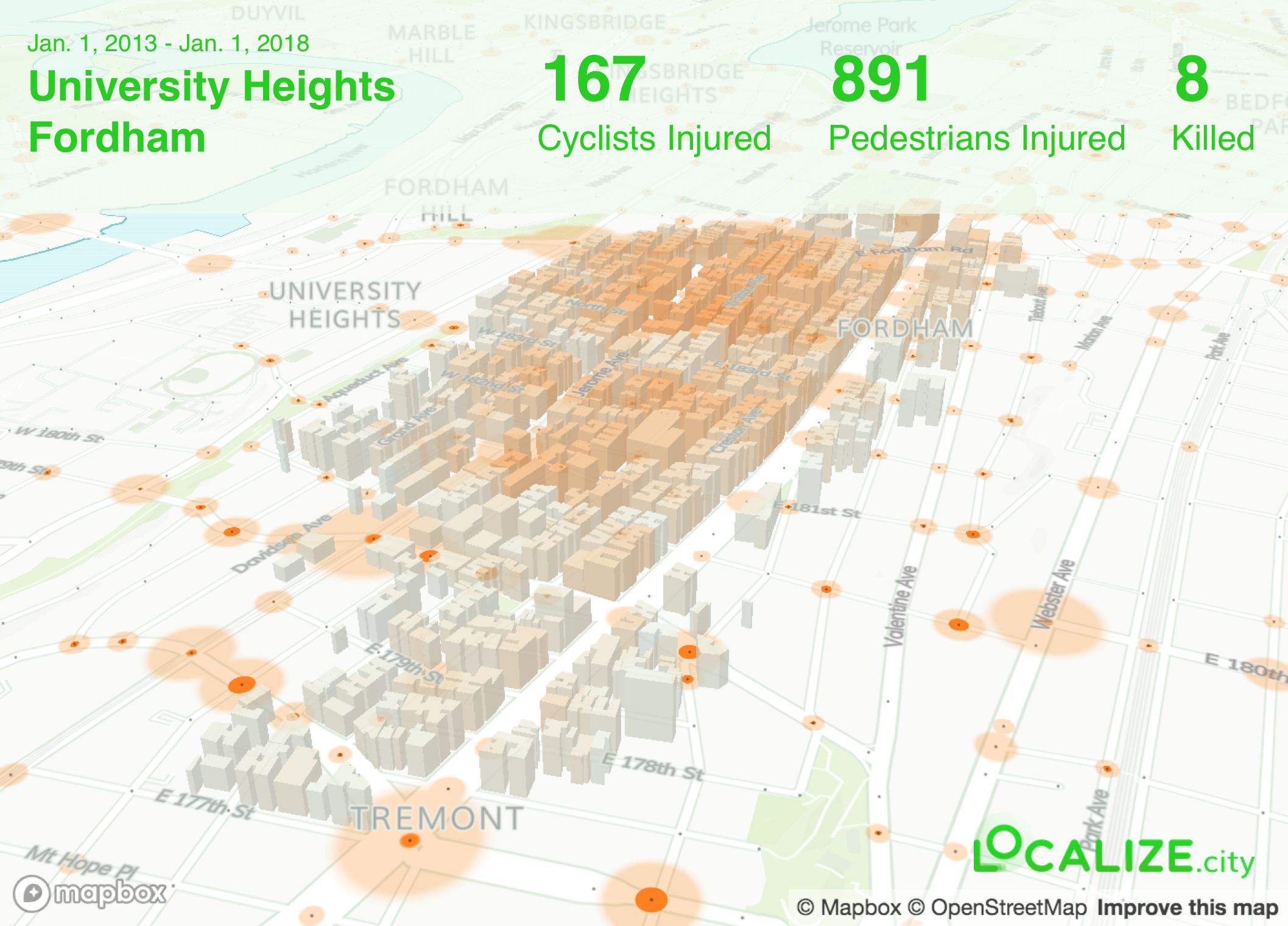 Localize writes:
There were 230 crashes injuring pedestrians and cyclists in this swath of the Bronx in 2017. That's a 16 percent increase from the average of 200 crashes in the previous few years.

"In addition to being under elevated tracks, Jerome Avenue is also lined with auto shops," said Lassiter. "Having cars parked on, or constantly driving across, sidewalks can create a tough environment for pedestrians and cyclists to navigate safely. And crossing the many lanes of the Grand Concourse, or maneuvering the congested shopping corridor on Fordham Road, won't get safer until physical improvements, like expanded sidewalks at intersections, are made."

As part of the recent rezoning — which is expected to bring new development to the area — the city plans to improve pedestrian safety under the elevated tracks, as well as along the Grand Concourse. Advocates, however, have called on speeding up the safety upgrades.
Although an increase of 30 crashes might not seem like much it does represent a 16% increase from previous years and now adding a bike share pilot program in this overly congested area might make things worse with more cyclists on the road.
Despite the successes of Vision Zero, it appears we still have a long way to go.