The Bronx's favorite pariah, Majora Carter, is back in the spotlight selling out the very community she claims to be helping.
First it was through her deal with FreshDirect to push this dirty truck dependent industry into the South Bronx where residents suffer from some of the highest rates of asthma in the nation.
Then it was through an asinine and self-serving attempt coin the phrase "self-gentrification" as she tried to whitewash her push for displacement via gentrification.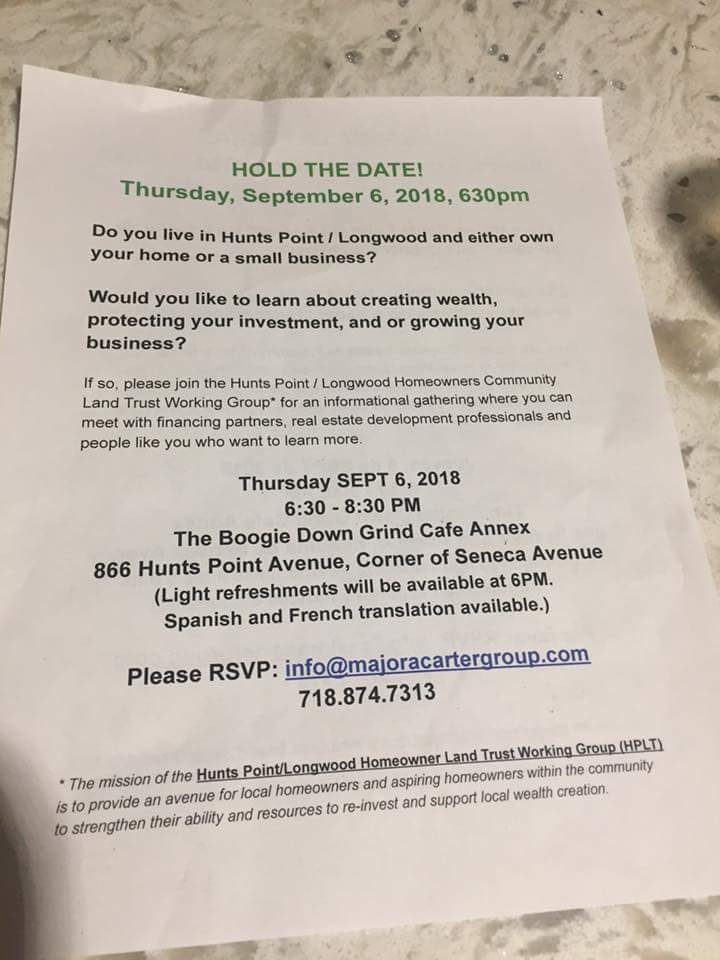 Now Carter is co-opting community land trusts (CLTs) and is distorting their meaning ad well as misleading the community into what it means.
South Bronx Unite writes:
South Bronx Unite stands in support of our activists sisters and brothers from Take Back the Bronx in denouncing efforts to displace long time residents from the South Bronx. Specifically, we take issue with strategies on behalf of for profit developers trying to act and serve as a Community Land Trust (CLT).
We recognize CLTs as a community lead grassroots effort to oppose the forces of real estate speculation. The fundamentals of Community Land Trusts fights to preserve the right of low-income people to live in the city by supporting Community Land Trusts and other community-led housing and neighborhood development efforts.
We believe that land is a common good, and that housing is a human right. Housing should be for people, not profit. Decisions about land and housing should include all community members, and prioritize people with extremely low incomes, who are homeless or otherwise in dire need of housing or in threat of displacement, and not served by the private market or for profit developers.
+++++++
PRESS RELEASE For Immediate Release
Contact: Lisa Ortega, Take Back the Bronx (646) 260 -6575
bxsocialcenter@gmail.com
Bronx Residents Denounce Majora Carter 's Displacement Efforts
BRONX, NY.
LOCATION: 866 Hunts Point avenue TIME: Thursday September 6th at 6:30pm,
Bronx residents will protest Majora Carter, who will be hosting an event to advance her role in the displacement of the Hunts Point/Longwood section of the Bronx.
Community members will call attention to Carter's opportunistic attempts to position herself as a lobbyist in the borough, serving as a local go-between for greedy developers and venture capitalists who seek to profit from the displacement of the area's poor and working class residents.
Bronxites have long criticized Carter's Startup Box firm, which helps game companies exploit local teenagers for low pay, as well as her service as a consultant for Fresh Direct, which helped the company bring more warehouses and trucks to an area already suffering from extreme asthma rates.
"Majora tries to intimidate people when they expose her for exploiting the Hunts Point section of the Bronx by drawing in predatory speculation for her financial gain," says Shellyne Rodriguez, an artist and educator from the Bronx. "But it's not working anymore. The community is turning against her."
"Majora wants to sell us out, and is a bully. But she can't bully or sell us out anymore. The whole community is aware and up in arms about her new efforts to convince her neighbors to move out so that private developers can take over our communities." – Monxo Lopez, member of South Bronx Unite.
Local residents also take issue with Carter's statements in a recent CityLab article, in which she claims Bronxites are attached to a "culture of poverty" which keeps them poor. Carter's statement echoes the infamous 1965 "Moynihan Report," which claimed black familial culture was a cause of poverty, and whose arguments were ultimately taken up to justify cutbacks on social spending.
Research has shown that the structure of the economy and systemic racism shape inequality far more than one's cultural norms.
"In reality, Bronx culture is about fighting poverty creatively and collectively," argues Elliott Liu, a CUNY doctoral candidate studying New York politics.
"Since the 1970s, residents have turned vacant lots into community gardens, and burned-out buildings into clubhouses, cooperatives and community land trusts. That culture is our best resource to fight and displacement."
In place of Carter's displacement schemes, activists will call for community control of land and housing in New York City. Interviews available upon request.
###
Sources:
https://www.nytimes.com/2013/04/05/nyregion/a-hero-of-the-bronx-majora-carter-is-now- accused-of-betraying-it.html
https://www.citylab.com/equity/2018/08/the-bronx-dont-call-it-a- comeback/567413/?utm_source=fbb
https://www.researchgate.net/publication/317960376_The_Rebuilding_of_the_South_Bronx_after_th e_Fiscal_Crisis
Welcome2TheBronx stands with South Bronx Unite and Take Back The Bronx and the people of The Bronx against Majora Carter's deplorable actions.