A disturbing hate-filled flyer was discovered late last night in Woodlawn calling for American and European men to "Defend your heritage! Defend your history!"
The discovery was made while a local resident was walking his dog along Van Cortlandt Park East and E 238th Street.
The flyer goes on to ask that men wear a white hat/shirt or both each Wednesday beginning November 14th while eating and drinking along Katonah Avenue to "demonstrate White Strength" against what it calls "an invasion of Black thugs into the neighborhood" and against Sharia Law and radical Islam.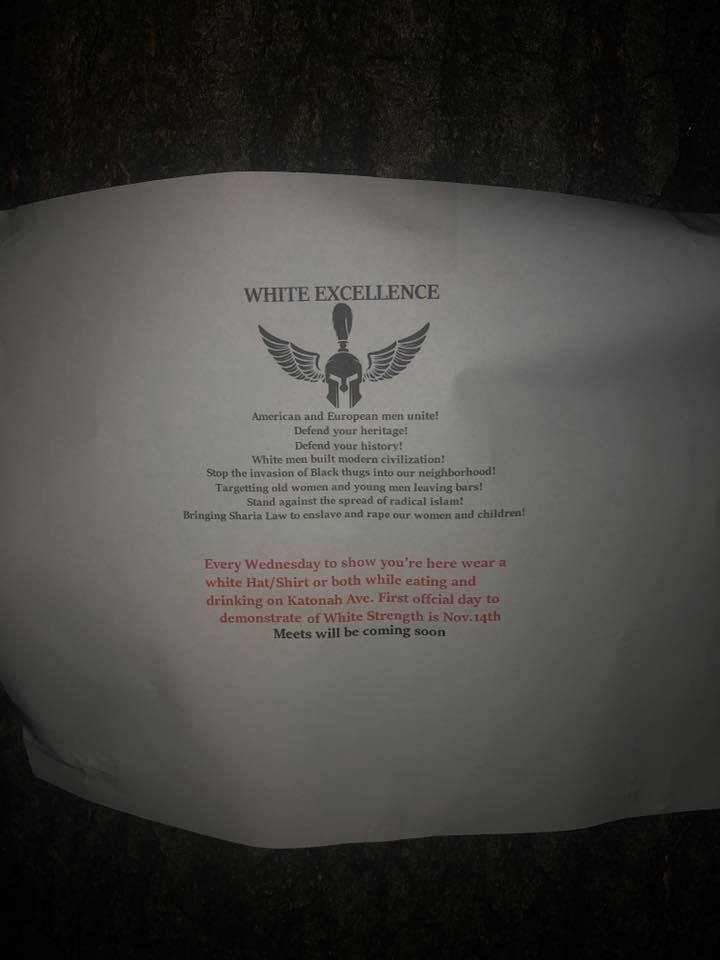 A resident wished to remain anonymous told us, "As a Woodlawn resident of many years, it is shocking and upsetting that white supremacists are trying to recruit other white supremacists in our neighborhood."
"When I moved here, I was aware that Woodlawn has historically had a racist side to it, but the neighborhood's demographic has been changing for as long as I've lived here. There are more non-white residents of many races, and it's been great to have them in our neighborhood. There are Indian doctors, African teachers, Philippinos, and many others represented in Woodlawn." they added.
Steve Nallen, 37, who's a life-long resident of Woodlawn and whose family has been living in the neighborhood was surprised when he learned of the white supremacist call to action in his neighborhood.
"…it's a surprise. I believe it is most likely an act of an individual trying to stir the pot in the neighborhood. A troll. I do not believe there is a white supremacy group forming in Woodlawn. However, there may be a few people in the neighborhood that in general do not like change." said Nallen.
And Woodlawn has indeed been changing as census records indicate the white population of the neighborhood is declining and is currently at 46.7% as of 2016. During the 2000 census it was at 55%.
He also added, "My family has been in this neighborhood for over 60 years. What I've noticed in the last few years in particular from both new home buyers and renters is welcomed mix of people moving into neighborhood. Working professionals that have discovered the area. My thinking is a few people within see this change may not be too happy with it and do something like this to simply gain the attention / stir the pot. This is not the view of most of the neighborhood just someone being ignorant. I don't expect this continue and this type of hatred will not be tolerated here and should not be anywhere. They will be found out exposed and dealt with accordingly."
Our anonymous tipster also shared this sentiment and said, "It is New York City. It's scary that white supremacists feel emboldened to staple a recruitment flyer on a tree in Van Cortlandt Park. Most of Woodlawn residents do not support this mindset and will fight it. Fear of others based on race is not good in any way, and it's not welcome in Woodlawn.
The timing of the flyers doesn't escape us as they went up the day after Democrats took control of the House of Representatives in the midterm elections where an historic number of over 100 women were elected including the first two Muslim women elected to Congress along with the first two Native American women elected to the same legislative body as well.
Just yesterday the NYPD confirmed that hate crimes in the city are indeed on the rise.
And it's not just New York City but a nationwide trend as hate crimes are rising across the country.
We, in The Bronx do not tolerate any kind of hate.
Whether this is an act of a lone individual or a larger group will remain to be seen.
Stay tuned as this is a developing story.