After a lengthy study and community engagement, the MTA has released its Draft Plan for the much anticipated Bronx Bus Network Redesign Plan which seeks to improve bus service in our borough.
We took a look at the plan over the weekend and most seem to be pretty good changes from eliminating stops and adding some to changing the routes of others.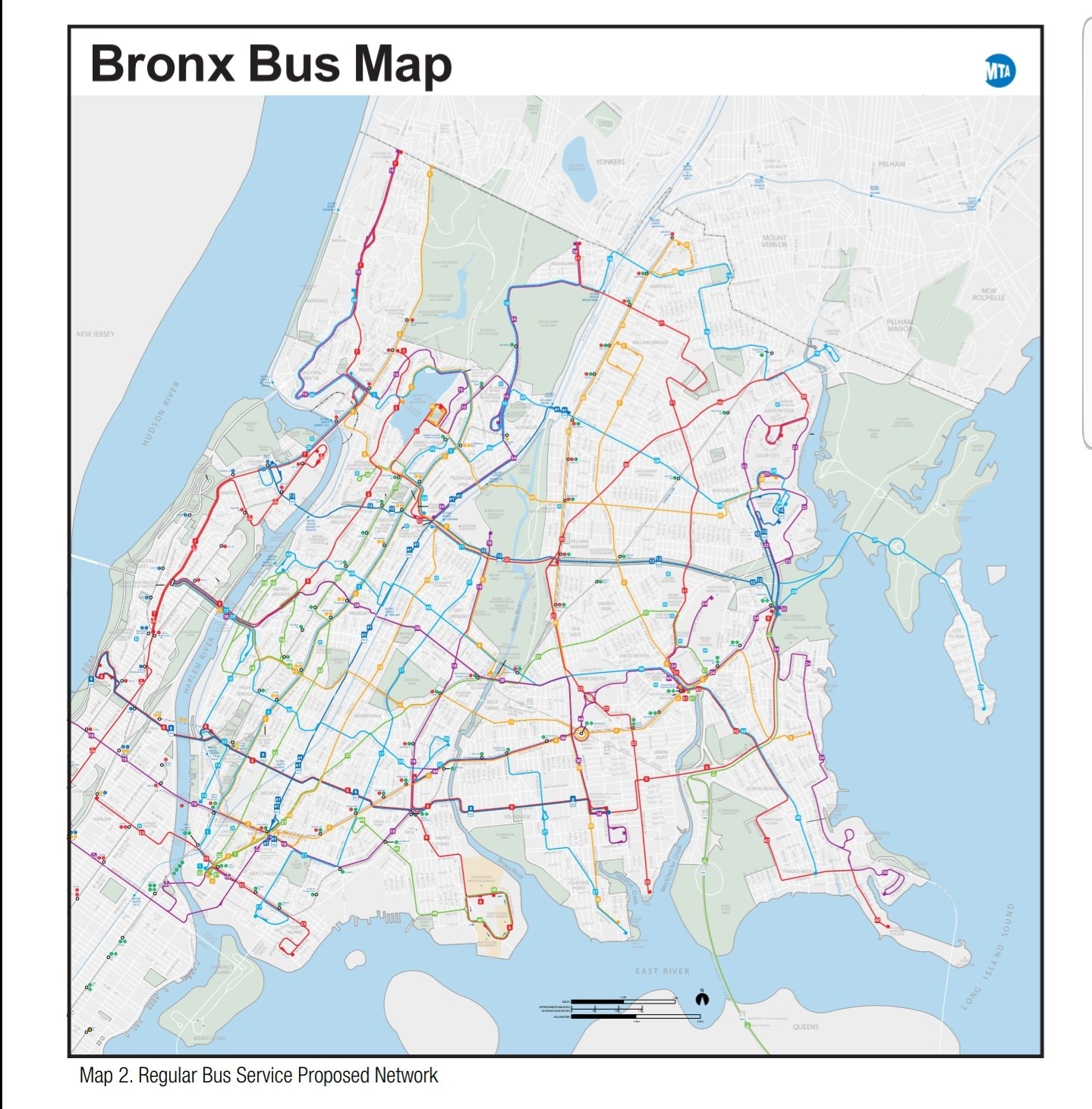 Hundreds of bus stops are proposed to be removed and many more added or adjusted to accommodate the changes to improve speed and reliability across The Bronx.
But one particular neighborhood will get the short end of the stick if this draft plan goes through.
Co-op City, home to over 43,000 residents of which a great number are seniors, will see worse service rather than better at least how we see it and several others do as well.
Amelia Zaino, who lives in Co-op City, says that the draft plan as it stands will force residents to transfer just to get to the subway in a single ride unless you're heading to the 6 train.
She further adds that all Co-op City residents who are taking the Bx 26 or Bx 28 bus will be forced to wait in one spot that currently has no amenities or space for waiting if these changes are implemented.
Zaino also points out that, "…dependency on the Bx23, which runs along I95, in the event of major traffic problems on I95, the neighborhood would be at a standstill with no alternatives."
Another drastic change would be the elimination of the express bus BxM4 into Manhattan from the Grand Concourse and rerouting it onto the Major Deegan Expressway and into Manhattan bypassing all the neighborhoods it currently serves along its existing route.
The Express Bus Advocacy Group plans on fighting some of these changes and cited concerns about removing the BxM4 from the Grand Concourse.
The MTA's logic is that area is already served by the B and D line and they feel that it's redundant to have an express bus serve that area but local resident Lisa Wright notes that these stations are not accessible for people with disabilities.
And she's correct. Only Kingsbridge and 161st Street are accessible and if the BxM4 is removed from the Concourse it would leave a huge swath of the borough with less options for travel for people with mobility issues.
This is something that the Express Bus Advocacy Group will fight the MTA on based on Americans with Disability Act grounds according to comments on Welcome2TheBronx's Facebook Group.
But as we mentioned before this is only a draft proposal and Bronx residents will have plenty of opportunities to voice their concerns at a number of hearings throughout our borough before the MTA moves forward with any of these changes.
There are a total of 8 hearings scheduled for the month of June to discuss these changes and we STRONGLY urge Bronxites to attend and make sure their voices are heard.
Once the changes get implemented they won't be going anywhere for a long time.
Other notable proposed changes are:
The elimination of the Bx4A between Southern Boulevard and The Hub. The Bx4 will remain in place.
The Bx6SBS will be rerouted to start/end in Soundview/Castle Hill and eliminate its route through Hunts Point. Hunts Point will still be served by the Bx6
The Bx8 serving Williamsbridge/Throggs Neck will be shortened to start/end in Country Club thus eliminating its service into Locust Point. Locust Point will then be served by an extended Bx24 which currently operates between the Hutchinson Metro Center and Country Club.
The Bx11 will no longer start/end in West Farms but would be rerouted into Parkchester
The Bx15, which currently runs along Fordham Road down Third Avenue and across 125th Street in Manhattan to the Hudson River, will be drastically changed to only operate between Fordham Road and The Hub at 3rd Avenue and 149th Street. A new route for the M125 would extend into The Bronx and start/end at The Hub to replace the Bx15 route that will be removed thus still maintaining the connection between both boroughs along the same route albeit by different means.
The Bx18 will be extended to form a loop around and between the Morris Heights and Highbridge neighborhoods for better and faster service.
The Bx26 will be shortened thus eliminating most of the current Co-op City route.
The Bx28 will be also be shortened through Co-op City as well as eliminated from Mosholu Parkway and rerouted down across Bedford Park Boulevard instead.
The Bx38 will be completely eliminated with service to sections 1-4 of Co-op City to be served by an "enhanced" Bx23 service. According to the MTA, by removing this line, they can reallocate resources to increase service on the Bx23 and Bx28 to better serve residents of Co-op City.
City Island's Bx29 will be shortened from Co-op City to Pelham Bay 6 terminal and overnight service is finally being proposed.
The Bx30 will no longer travel from Co-op City to Norwood but instead would end at Pelham Parkway and White Plains Road to connect to the 2 and 5 trains there and will also eliminate practically its entire route in Co-op City (see a trend here? The MTA says it's improving service for residents of Co-op City but instead it appears they'll be getting a lot less options for getting out of the area.
The Bx34 will be rerouted to go down Webster Avenue instead of Bainbridge and Valentine Avenues. The service will still end at Fordham Road but commuters will be able to easily transfer to Botanical Garden and Fordham Road Metro North stops and vice versa.
The Bx36 will have a more direct route in between points by no longer traveling across portions of E 180th Street and E 174th Streets but instead via East Tremont most of the way and down White Plains Road.
The Bx40 will run via E 180th instead of East Tremont in the West Bronx and will end at Harding in Throggs Neck and eliminating its route along Harding and Pennifield.
Another drastic change is set for the Bx42 which will no longer to Morris Heights but instead will be shortened to run between Westchester Square and SUNY Maritime in Throggs Neck.
Co-op City will lose its direct connection to Queens as the Q50LTD will end at Pelham Bay 6 station. (See? Co-op City is getting SHAFTED).
The BxM2 will run from Riverdale down Riverside Drive and the Henry Hudson instead of the Deegan and operate exclusively on the West Side of Manhattan instead of serving the East Side of Manhattan.
The BxM4 will be extended further north into Wakefield and rerouted to go down the Major Deegan Expressway and eliminating its route along the Grand Concourse.
The BxM5 would replace the BxM11 and run down Bronxdale instead of White Plains Road to avoid duplicate service along subway routes.
City Island will get faster express bus service as the BxM8 will no longer run on Westchester Avenue and will run to Manhattan through the highways instead.
The BxM17 will be a new route between Co-op City and Downtown Manhattan which will travel over the Whitestone Bridge along the Long Island Expressway to South Ferry Terminal.
Another Riverdale express bus, the BxM18 will no longer go down the Deegan and Manhattan's East Side but instead will go down and serve the West Side of Manhattan.
Don't forget to attend one of the Redesign Open Houses below to voice your concerns:
You can also submit your comments HERE if you can't make these meetings.
To view the entire draft proposal go here (warning: PDF).