In a blow to local residents and businesses who fought against the New York City Department of Transportation's proposed "road diet" for Morris Park Avenue, a judge has declared that indeed the city may proceed as planned.
Bronx judge Lucindo Suarez stated, according to StreetsBlog who first broke the story, that the road design is a proper "… "administrative act taken within the purview of [the city's] jurisdiction and scope of their statutory authority under the New York City Charter, supported by a rational basis rooted in the public health and safety. Therefore, Petitioners' requests for a preliminary injunction, reasonable attorneys' fees and costs are denied."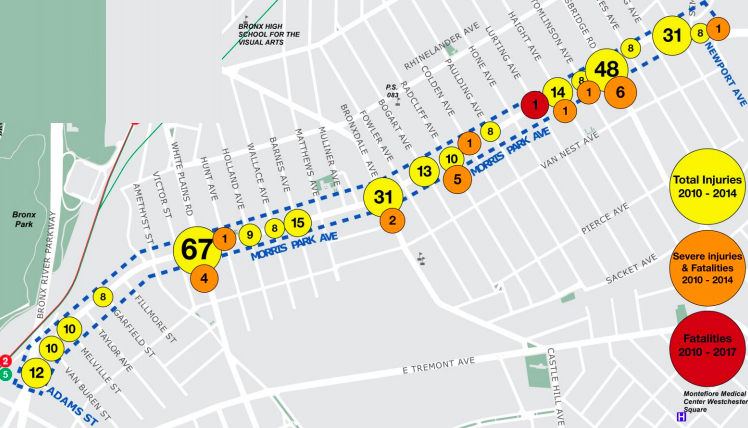 Earlier this year Council Member Mark Gjonaj, who's vehemently opposed to the road diet, said:
"In a perfect world we'd have adequate parking spaces driving lanes, bus lanes, bike lanes, sidewalks, handicapped parking — but this is not a perfect world," he said.
"Parking and delivery of commercial vehicles is as integral to this city as the MTA. And the problem that we have … just finding space to make a delivery. And I'll use a perfect example: Vision Zero. It's taking two lanes, road diet, making into one lane and a bike lane, with only a small place for commercial trucks to park. … It's impossible to meet the demands of those commercial properties! Impossible for those suppliers to get to those merchants.
But what will happen is those trucks will have to double park, forcing vehicles to either come to a dead halt and create congestion or they have to use side streets or they have to risk a head on collision to drive over the markings.
I have to stick up for our business owners. Those delivery trucks are hard working New Yorkers meeting the needs and demands of our small businesses."
The road diet will also add needed bike lanes to Morris Park Avenue as well for increased safety for cyclists.
Ten years ago, Allerton Avenue saw a similar redesign and according to DOT data, pedestrian injuries have dropped by 50%.
To us, this is simply common sense.
This is a victory in the name of safety as now Morris Park will go from being a two lane road in each direction reduced to one lane in both directions helping reduce dangerous speeding along the wide street.
DOT Bronx Borough Commissioner Nivardo Lopez said it best on StreetsBlog earlier this year:
The challenge for transportation planners, Lopez added, is that so-called road diets are counterintuitive if your opinion of how roads should work is formed from behind the wheel of a car.
"They see four travel lanes becoming two and they think it will make traffic worse," Lopez said. "For most people, that's their concern because, fortunately, most people are not hit by a vehicle or are involved in a crash. Safety is out of sight, out of mind for them. To them being stuck in traffic is more relatable."