Rising like twin beacons of gentrification, the South Bronx's first luxury high rises have topped out reaching their maximum floor heights of 25 stories each.
Known as The Arches, which is being developed by Cheskel Schwimmer, the luxury towers are now the tallest buildings in the area, surpassing even nearby NYCHA development Mitchel Houses which has dominated Mott Haven's skyline for over half a century.
But that dominance has come to an end with these two new luxury towers that once complete will have 465 residential market-rate apartments across both towers.
And this is just the beginning.
A Tale of Two Cities
The entire South Bronx waterfront along the Harlem River stretching from the 145th Street Bridge down to the Third Avenue Bridge will be completely unrecognizable to locals within 5 years as developers snatch up lots and begin to submit plans for construction.
Over 4,000 units of housing are in the pipeline in various stages of development.
And it's all happening on the proverbial "other side of the highway" in this case, the Major Deegan Expressway.
On one side of the highway you have some of the largest collections of NYCHA developments in the city in the nation's poorest urban congressional district and on the other side of the Deegan you have a boom of construction of luxury housing that will be PHYSICALLY segregated from the rest of the community.
Starting directly north of the 145th Street Bridge, Bronx Point is scheduled to break ground this winter in what was stolen parkland that was designated as part of the Mill Pond Park Expansion.
Once completed, the development will not only have 1,045 residential units on the waterfront (of which half will be permanently affordable) but it will also be home to the Universal Hip Hop Museum.
Directly south of the 145th Street Bridge, The Lightstone Group has snatched two parcels in deals worth over almost $90 million with plans to bring 2,000 units of waterfront residential units with 600 (or 30%) of said units as "affordable".
No renderings have been released as of yet for this development nor have any plans been filed.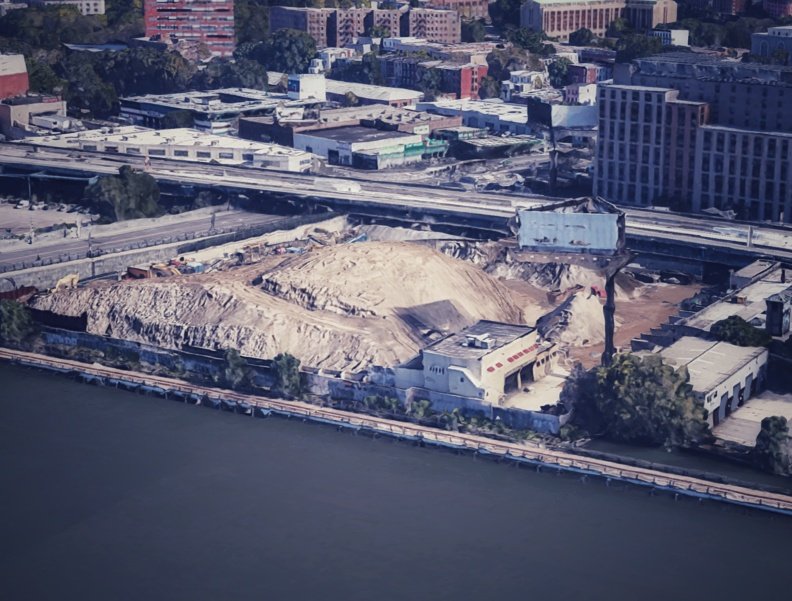 Past The Arches, immediately to its south, you have Brookfield's 1,300 units of mostly market-rate luxury housing (with 30% set aside for "affordable housing" as well.
This particular development will be spread across two lots on either side of the 3rd Avenue Bridge and will also bring with it 20,000 square feet of retail and construct a promenade and a park along 850 feet of the waterfront.
And these are just a handful of parcels that are being developed. There are a number of parcels still up for grabs, although not officially on the market, that can be developed.
The South Bronx, as we know it, is changing and it's changing faster by each passing day.