A recent report released by the US Bureau of Labor Statistics indicated that wages are not only rising in The Bronx but also saw the highest jump in the state from the second quarter of 2018 to second quarter of 2019 with a 5.7% increase during this period.
This growth in wages in our borough also ranked 15th in the nation when compared to the country's 355 largest counties.
According to the data, the borough's weekly average pay was $1,117 which also placed The Bronx's wages in the top 100 across the country.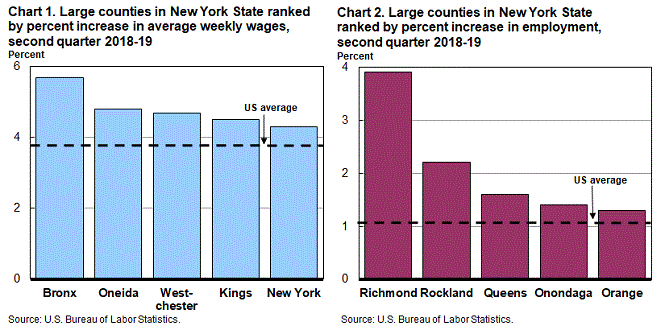 No indications were made as to why rages jumped so high in such a short period in our borough but perhaps one reason might have to do with so many Bronxites benefiting from the NYS $15 minimum wage plan which was enacted in 2016.
Between 2018 and 2019 many employees at fast food restaurants and other large employers saw their wages rise from $13 an hour to $15 an hour by December 31, 2018 while others at small businesses saw their hourly wages rise from $12 an hour to $13.50.
But is everyone in The Bronx really experiencing such a fast rise? Perhaps not, but since so many Bronxites are underemployed making minimum wage this is perhaps why we're seeing such a big jump.
A New York Times story earlier this year pretty much corroborates our hunch where they state that, "Increase in minimum wages across the country may make the labor market look a bit rosier than it really is."
The article also reports:
" These days, wages in the United States are doing something extraordinary: They're growing faster at the bottom than at the top. In fact, recent growth for workers with low wages has outpaced that for high-wage workers by the widest margin in at least 20 years.
"But there has been another factor at play: the rise in state and local minimum wages.
"For the last decade, the federal minimum wage has been unchanged at $7.25 an hour. But over that period, dozens of states and localities have enacted their own minimum wages or raised existing ones. As a result, the effective U.S. minimum wage is closer to $12 an hour, most likely the highest in U.S. history even after adjusting for inflation."
Also of further note from the report, while wages increased well above the national average during this period in The Bronx, actual jobs increase in our borough was below the national average at just .8% growth with 325,000 reported jobs.
We're curious to hear from our readers. Our you experiencing these increases in wages? If so, have they helped you?