As e-commerce continues to grow and expand across the New York City region, more and more companies are looking towards the Bronx for their "last-mile" distribution facilities solutions which enables next and same day deliveries for companies like Amazon.
Right now the site of the old Whitestone Cinema is being transformed into one such facility which will be the largest two-level distribution center in the United States occupying 700,000 square feet.
But a bigger one almost twice its size is now coming.
Turnbridge Equities, a real estate investment firm, will soon build New York City's largest such facility, called Bronx Logistics Center, in the Oak Point industrial area of the South Bronx at 149th Street just across the Bruckner Expressway.
Once constructed, the massive 1.24 million square foot monster warehouse will be spread across four levels with truck access to the first three and van access to the fourth level as reported by Real Estate Weekly.
The site is currently occupied by several companies, including Schleppers Moving & Storage, F&J Masters, and Tilcon New York, a recycling company.
Besides being the largest in the region, it will also be the only one with direct rail access.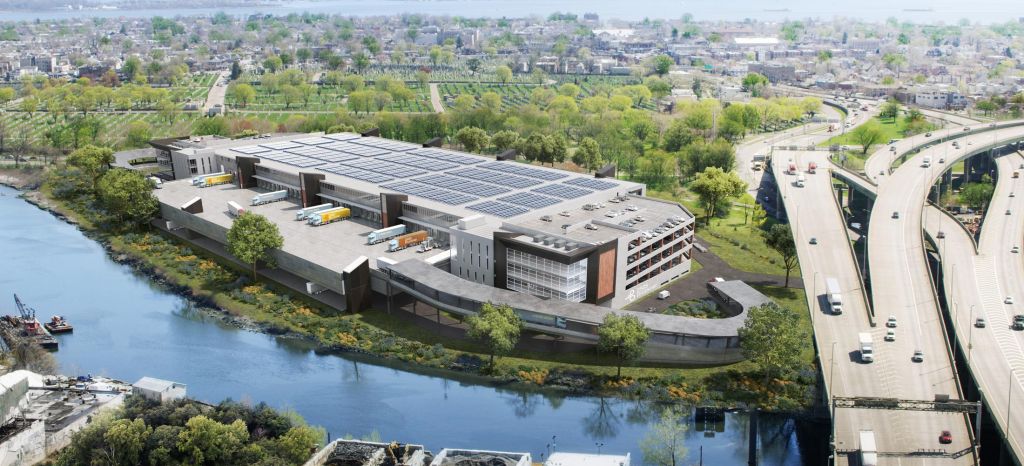 For us, at Welcome2TheBronx, this is an important feature if we're going to have to put up with more warehouses opening up in The Bronx.
If tenants utilize this option, this will hopefully mean less trucks coming into The Bronx and adding to not just the nightmarish traffic we already suffer from but the truck pollution which contributes to the area having some of the worst asthma rates in the nation.
Real Estate Weekly reports:
Bronx Logistics Center will offer market-leading access, with levels one through three each containing dedicated drive-in access ramps for trucks and 17 dock doors per floor. The top level will be accessed by 14 drive-in ramps for vans and automobiles. Floor plates will average 250,000 square feet, with clear heights of 24 to 28 feet throughout. The efficient layout and abundant loading doors and parking will permit one or more tenants per floor, each with dedicated loading areas.  A combination of surface, structured and rooftop parking will accommodate more than 1,400 vehicles.
"E-commerce is growing not merely in volume but in sophistication, and its infrastructure must evolve to satisfy an unprecedented array of demands," says Andrew Joblon, founder and managing principal of Turnbridge.
"That's why Turnbridge is creating a truly state-of-the-art center, where tenants can move large inventories with the kind of efficiency that next-day and especially same-day delivery requires. Our objective is to raise the bar on what a logistics center must offer."
Now the other question is, will this facility be union built? Maybe they should reach out to the Bronx Brigade and learn why they should build union.