With The Bronx already on edge as the epicenter of the COVID-19 pandemic in New York City making it the hardest hit borough, there's one more thing to worry about: Unemployment.
The unadjusted unemployment rate for April 2020 hit 16.5%—over 3 times what it was the same time last year when it was 5%.
In a borough that suffered the highest rates of positive cases for coronavirus in the city and highest mortality rate as well, this is something else that we have to deal with. Combined with the fact that The Bronx has the lowest median income in the city, the most residents facing eviction and families just one paycheck away from homelessness this is simply a disaster for our borough.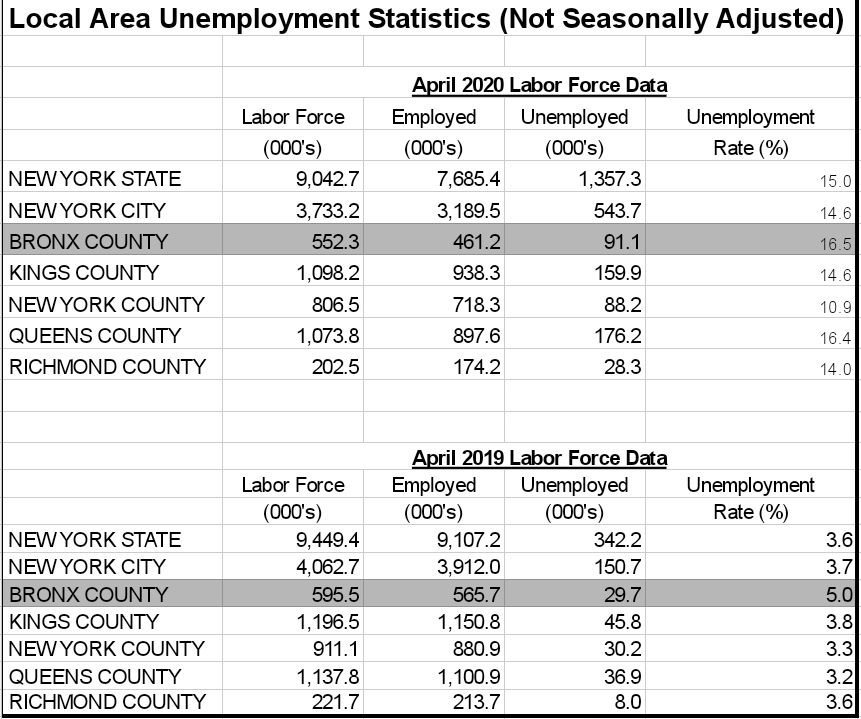 We need the city, state, and federal government to step up and protect our most vulnerable during this crisis.
Instead of building jails to replace Riker's let's utilize that money for our communities to ensure they have adequate housing and food. $8.7 billion to $11 billion that has been projected to cost to close down Riker's and build new jails would go a long way on preventing yet another crisis for the city's low income residents.
In fact, this is something that local elected officials have recently called for.
In a letter signed by 11 elected officials, they wrote to NYC Mayor Bill de Blasio and New York City Council Speaker Corey Johnson asking that they reconsider building the new jails in light of the crisis.
They write:
"The Bronx is the epicenter of the coronavirus pandemic in the United States. No other part of the country has been hit as hard as our community has. It is time to put a halt to this project so that the financial resources that have been allocated to its completion can be put towards more important priorities right now – the health and education of our families and workers.
"I urge Mayor de Blasio and New York City Council Speaker Corey Johnson to reconsider this project as it evaluates the budget in the coming weeks," said Congressman Serrano.

"In this time of great crisis where we have taken an economic hit, especially here in The Bronx, due to the COVID-19 pandemic, it is important that we allocate our funding where it can help," said Bronx Borough President Ruben Diaz Jr.
"We need to invest in people, not projects like this, so that we can help close the gap on the social and economic disparities that exacerbated the death toll of Coronavirus victims in our borough," added Diaz Jr.
While I may not always agree with all of our elected officials, this is a no-brainer.
Mayor de Blasio has two options: Do the right thing and redirect the funds for the new jails towards economic stability for vulnerable communities like in The Bronx, or forever go down as a failure of a mayor who only widened the gap between the tale of two cities.