Despite drops of COVID-19 cases across the city and state, there are ten lingering hotspots where positive cases of coronavirus remain high.
As a result, Governor Cuomo announced that the state will be adding additional 10 additional testing sites (one per zip code on the list below) because, "We need people to come out and get tested, find out who has the virus and who has the antibodies, who is possibly contagious."
Six of the top ten zip codes with highest percentage of cases testing positive for COVID-19 are in The Bronx with three of them at the top of the list.
The 10457 zip code in The Bronx, which covers parts of Belmont, Mount Hope, and Crotona, has the highest rate of positive cases in New York City at 51% followed by 10460, which is adjacent and covers West Farms, Van Nest, and Crotona and has a 50% positive rate.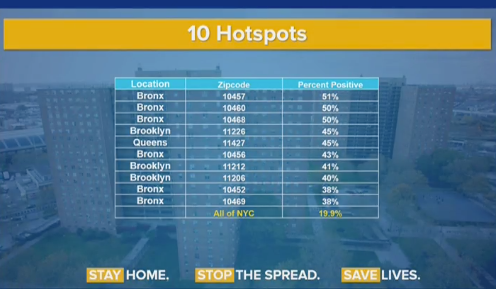 Third on the list is 10468 covering Kingsbridge Heights, and parts of Bedford Park and Fordham Manor and also with a 50% rate.
This is more than twice the citywide average of 19% and the fact that The Bronx has six of the ten hotspots in the city just shows how severely impacted our borough has been hit.
Back when the coronavirus pandemic began surfacing in The Bronx, I published an article indicating that we were poised to take a hard hit during this crisis. A few weeks later, our worst fears came true as our beloved borough became ground zero for COVID-19 in New York City not just in terms of infection rates but as well as mortality.
In terms of infection, many Bronx residents in these hard-hit areas live in overcrowded apartments where social distancing is impossible as multiple generations of families live under one roof. Add that you have many essential workers living in these households and you now also have one or two individuals who still must go to work thus potentially picking up the virus along the way.
And COVID-19's high mortality rate in The Bronx can sadly be attributed due to the poor health outcomes of its residents as we are the unhealthiest county in New York State and one of the unhealthiest in the country.
In New York, we have the highest rates of asthma, diabetes, cardiovascular disease, and some of the highest rates of obesity as well as compromised immune systems. Just one of these illnesses significantly increases risk of developing severe symptoms due to the coronavirus but even worse is if an individual suffers from two or more of these.
Sadly in The Bronx, many residents suffer from many of such comorbidities.
And it is no surprise that these hard-hit areas here in The Bronx and across the city are low-income communities of color further showing the great inequality that exists in what's supposed to be America's Melting pot.