While many area residents are helping businesses destroyed by looting early last week, one particular pair stands out.
Ricardo Torres and his partner Ryan Ehrlich of the Queens-based contracting company, Paintworks & Decorating recently helped several local businesses in the affected areas rebuild their damaged stores free of charge.
After watching the videos of the looting along Fordham Road and Burnside Avenues, the two felt a need to reach out and use their skills to help out some of these businesses and spread positivity. "I just want to bring positivity back. Everybody is locked down because of quarantine, depressed, stressed out and I just want to give positive energy and help out, and that's all I'm interested in doing," Torres told News12 The Bronx.
According to Alison Jaquez, co-owner of H&H Mobile, getting the store back up and running would have taken several months. But now, thanks to these good samaritans this small business in The Bronx has a headstart on the road back to recovery.
To date, they've also helped Asencio Pharmacy on E 174th and Morris and WK Multiservices on the Grand Concourse and 182nd Street which cost Torres and Ehrlich $288 in materials.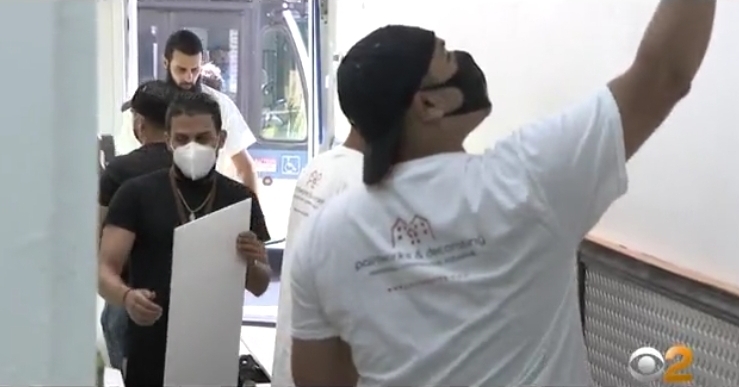 Back at H&H they spent $310 on removal of debris, patching up holes, and repainting the store.
Because of overwhelming positive feedback from people wanting to help, Paintworks & Decorating has launched a GoFundMe to cover the costs of materials only as they are donating their labor as well. If you're interested in helping out, you can donate here.
Watch the full videos from CBS2 and News 12 The Bronx below: