The economic crisis as a result of the COVID-19 pandemic has hit many but nowhere is it more apparent than The Bronx.
At one point during the crisis, unemployment reached a staggering 24.7%, the highest seen since the Great Depression and perhaps even higher than that.
Now, according to reporting by WABC, there is $1 billion in unpaid rent in New York City as a result of the coronavirus pandemic and economic crisis and although landlords are prevented from evicting people during this time period, that hasn't stopped them from filing the necessary paperwork so that they can do so once the moratorium is lifted.
And nowhere is this looming crisis greater than The Bronx where almost 10,000 eviction notices have been filed, according to data compiled by the Eviction Lab at Princeton University, impacting tens of thousands of Bronxites.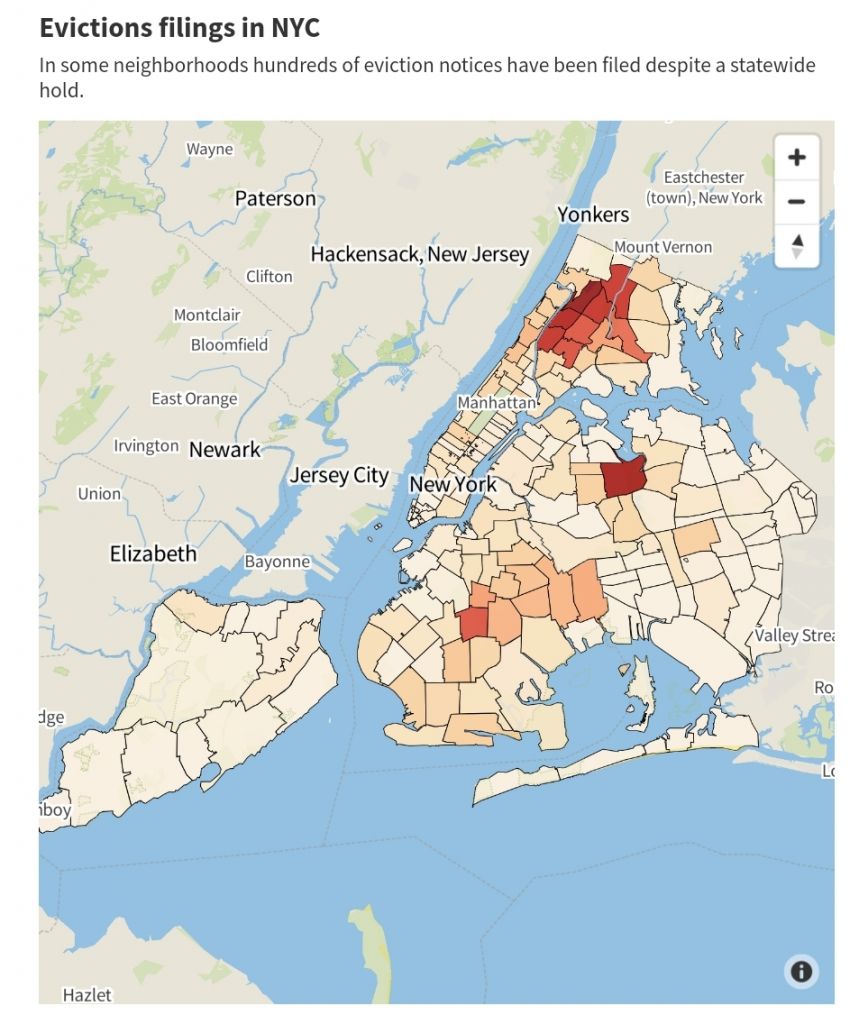 The Bronx also has the most eviction filings by zip code with 10468, which covers Bedford Park, Kingsbridge Heights, and parts of Fordham Manor, Fordham Heights, and University Heights, leading the city with 1,001 filings.
Many of the zip codes in the West Bronx, covering neighborhoods like Highbridge, Morris Heights, and Morrisania, are also among the highest with eviction filings in the city an area that has historically already had some of the highest rates of rent burdened households and residents just one paycheck away from homelessness.
As with what we've seen with the COVID-19 pandemic, this housing crisis is also greatly impacting households of color than any other group.
WABC also reports that NYC's lower income zip codes have five times more eviction filings than the wealthier parts of our city showing further how the pandemic has impacted these communities disproportionately.
This is clearly evident when you look at the map and you see areas that have a lower population of families of Blacks and Latinos, also have lower eviction filings. Although many of those areas tend to have more owner occupied homes, there are still a large portion of the population that are renters.
Zip codes covering areas like Riverdale, Spuyten Duyvil, Throggs Neck, Country Club, Pelham Bay all have under 100 filings each and over on City Island, no eviction filings have been recorded.
This isn't to say that homeowners aren't hurting either as many are behind on mortgage payments, however, data on that specific area isn't readily available.
Watch the news clip from WABC below and you can see how your zip code is doing by going here and using the interactive map.
Dear reader: Now more than ever it is important to support local journalism especially as told by a Bronx born and raised journalist telling our stories. If you found this or any of our stories informative and enjoyed our photography throughout the past years, kindly consider donating to support local Bronx journalism for decades to come: