BEDFORD PARK—Fourty one brand new residential units are now available for you to apply in a recently launched affordable housing lottery in this northwest Bronx neighborhood.
Located at 211 East 203rd Street between the Grand Concourse and Valentine Avenue, the brand new development, which is still under construction, has studios, one-bedroom units, and two-bedroom units available.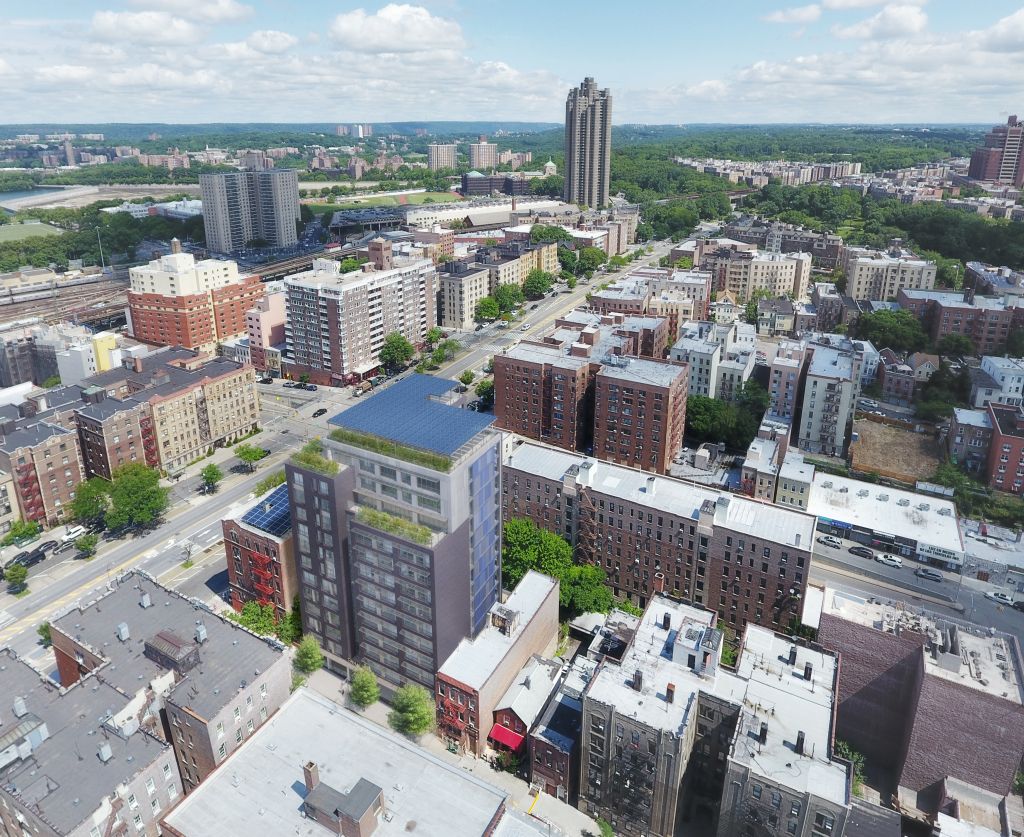 In order to qualify for the units set aside for households making 40 or 50% of the Area Median Income, applicants must have at least one household member who is 62 years or older.
There are two studio units available renting for $592 a month at the 40% range which means you need to make anywhere from $22,800 a year to $38,200 depending on a one or two-person household.
Eleven one-bedroom units are available for $740 a month for those at the 40% AMI which is listed as anyone making $28,218 to $42,960 a year depending on household size.
One and two-bedroom units have also been set aside for middle-income families making 80% of the AMI with significantly higher rents more closer to the area median for such units.
The development has also set aside eight one-bedroom units at the 50% AMI which is specifically for applicants who qualify for the Section 8 Project Based Voucher program and rents for these units will vary per household and set at 30% of their yearly income. Qualifying income ranges for these units goes anywhere from $0 to $53,700 a year.
The 13 story unit building has a total of 108 residential units of which the remainder are set aside for the formerly homeless and families with special needs, however, those units are not made available via the NYC Affordable Housing Lottery.
Amenities included in the development are pretty standard for such new construction buildings in The Bronx like bike storage lockers, shared laundry room, air-conditioning, community center, private outdoor spaces, and an outdoor terrace.
The Bedford Park Boulevard station on the B and D line along the Grand Concourse and is an accessible station with an elevator and is located just two blocks away along with several bus lines.
As far as recreational spaces, Mosholu Parkway, Harris Park, Williamsbridge Oval, and Bronx Park, and Van Cortlandt Park are just blocks away as is the New York Botanical Garden.
If you're interested in applying, you can do so online by going here or you can apply by mail by sending a self-addressed envelope to:

Bedford 203 HDFC C/O Sycamore Birch Management
869 Morris Park Ave
Bronx, NY 10462
50% of units are set aside for current residents of Bronx Community Board 7 (you can find out which community board district you live in by entering your address here) and 50% are set aside for those 62 and older. 5% of these units are set aside for those with mobility issues and 2% for the vision and hearing impaired.
Good luck to all who apply and remember, please do not contact us as we are NOT affiliated with this or any real estate listing. We're simply bringing you the news.