Bronx islands is not the first topic that comes up when thinking about our borough.
Besides the obvious City Island and (gasp) Rikers Island did you know that we have dozens of islands? Some inhabited, some no longer islands, some abandoned completely.
The Bronx even has its own archipelago shared with Westchester known as the Pelham Islands.
This list includes all the islands surrounding our beautiful borough including ones that due to feats of engineering are no longer islands but once were.
In no particular order here we go. Oh, and we purposefully left out a mapped location of these islands cuz what's the fun if you can't look them up on a map and find them yourself, eh?
The Bronx Islands
Hog Island

Located just north of Hunter Island in Pelham Bay Park just south of the Glen Island in Westchester County is Hog Island. Little to no information is available on this tiny island of rocks, and a few shrubs. We've actually been here once before during a canoe trip one summer.
Danny Hat Island

Just north of Orchard Beach is Danny Hat Island with it's own "Danny Bay" and "Courtney Bay"
Two Tree Island

South of Danny Hat Island is Two Tree Island (although Lovie Pignata of Morris Perk thinks we need a recount). You can actually walk there from Orchard Beach via Twin Island (no longer an island) during low-tide. Don't get stuck here during high tide though cuz you'll have to wait to get back to shore unless you want to swim back.
Hunter Island

The wooded expanse of land directly north of Orchard Beach's parking lot is what was once a 215 acre island known as Hunter's Island.
Once the home of the Siwanoy Native Americans, who called it Lap-Haa-Waach King (place of stringing beads) the island was sold to Thomas Pell, the area's namesake.
When Pell purchased it, it was named Pell Island and then eventually became Pelican Island. Then in 1804, John Hunter purchased it for $40,000 (roughly $800,000 in 2018).
Hunter built a grand mansion on the island which sadly fell into disrepair and eventually demolished during the construction of Orchard Beach which connected Hunter and Twin Island to the mainland.
Today the island is a marine zoology and geology sanctuary according to NYC Parks.
Twin Islands

Mishow and Gray Mare are the names of the two large glacial boulders that make up these two former islands that are now attached to the mainland thanks to the creation of Orchard Beach by Robert Moses. The island was also home to a mansion once belonging to James D. Fish, a banker.
The 19 acre Twin Island is also home to one of New York City's last remaining salt marshes.
High Island
You've seen the tall antennas across from Orchard Beach but probably didn't know that this is where you're getting your signal from for WCBS and WFAN AM radio stations.
The island is privately owned by Entercom but in the past it had summer cottages that were rented out and accommodated about 40 families.
Access to the island is via a private road from City Island.
Chimney Sweeps Islands
Of all the Bronx Islands, this one's kinda crappy…
According to Curbed:
"Another one gone to the birds. Purportedly named after their broom-like shape, some contest that in fact a chimney-sweep turned millionaire had bought the place at some point. Whatever it was, The Chimney Sweeps(which are made entirely out of bedrock) are owned by the Parks Department and you aren't invited. Nature is only for birds, you know. [Photo via Empire Guides.]"
Goose Island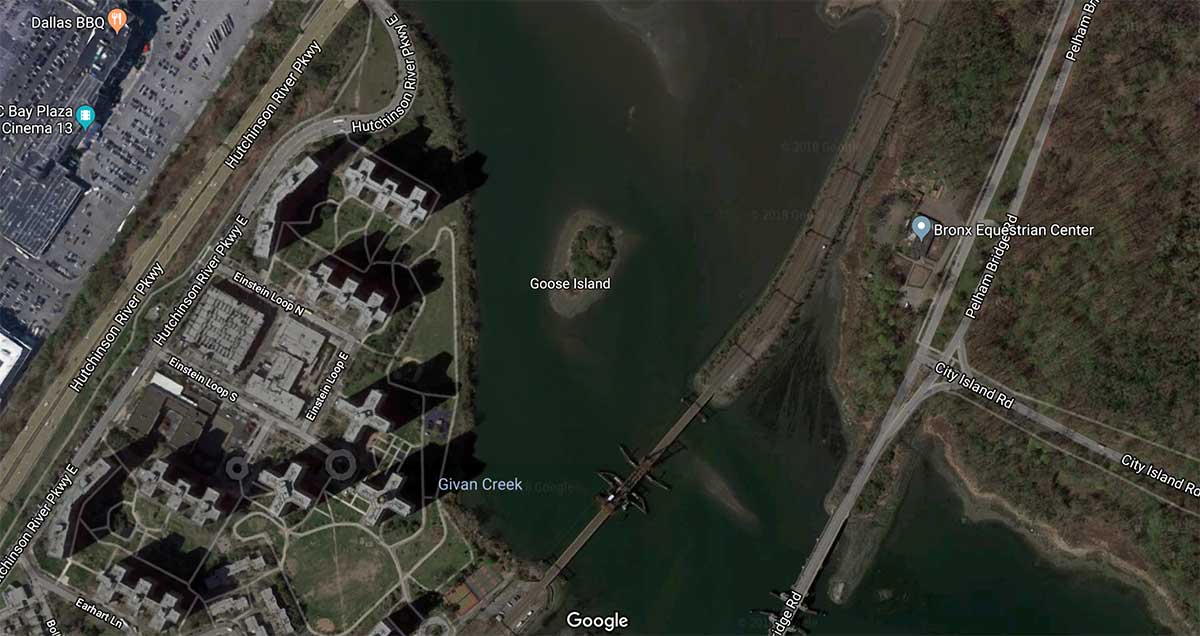 Smacked between Pelham Bay Park and Co-op City is Goose Island in the middle of the Hutchinson River. Guess what you'll find on this island? Well birds as its a bird sanctuary now but its last known resident was Abigail "Mammy Goose" Tice who moved to City Island at the age of 90.
East Nonations & South Nonations
These two islands only emerge twice a day during low tide spending the rest of the day submerged. Does this make them sometimes Bronx Islands? As for their names? Marie Lorenz writes: "Of all the special islands in NYC, my favorites are East and South Nonations Islands. "Legend has it that Dutch and English colonists were unwilling to fight over these two adjoining reefs… so they became owned by no nation." says the book [The Other Islands of New York A History and Guide].
Kinda sad…
Rat Island

This island with an unfortunate name was purchased back in 2012 in an auction by City Island resident Alex Schibli. Schibli wants to change the name back to Rattle Island but it appears that has happened as of yet.
North Brother Island
Just east of the shores of Port Morris is North Brother Island which looks like the set of a horror movie. Filled with the remains of Riverside Hospital which was built in 1885 the island has quite the tragic history that would make any paranormal movie back story complete.
From the Tuberculosis Pavilion used to quarantine the sick away from the rest of the general population to the site of the General Slocum steamship disaster which killed over 1,000 people and even as the final home of Typhoid Mary aka Mary Mallon the first person in the US identified as a carrier of the disease.
Mallon died on the island in 1938 after 23 years of quarantine and 3 confirmed deaths due to her refusal to cooperate. Some estimates are as high as 50 fatalities attributed to her.
The island now is off limits to the public due to the general conditions of the structures and dangers it poses.
There are plans to possibly allow legal visitation to the island but who know how long that will last.
South Brother Island
Nothing much to see here, not even a structure. North Brother's smaller and lesser known sibling is devoid of any structure or much history for that matter.
City Island

Do we really need to talk about City Island? I mean, I think we all know the place quite well but for those who don't, here goes. The largest of the Pelham Islands and archipelago, it has a population of just over 4,300.
And clearly the best known and most visited of all Bronx Islands.
That number swells with visitors during the warmer months as thousands pack the island's restaurants and art galleries that dot City Island Avenue from end to end (much to the chagrin of locals who simply abhor being trapped on their own island thanks to the nightmarish traffic that the throngs of people bring).
Oh and residents born ON the island are known as clamdiggers and those residents unfortunate enough to be born elsewhere are known as musselsuckers.
Rikers Island
This is one of the Bronx Islands that we question why is it ours? We, personally, don't claim Rikers. It's part of Queens Community Board 1 and even has a Queens Zip Code. We'll gladly take it though once the horrendous conditions and atrocious human rights violations stop there when it's closed.
Randall's and Wards Islands
These two aren't Bronx islands but they will be if we have our way. Randall's and Wards Island (now one big 520 acre island after Little Hell Gate Channel was filled in) is technically a part of Manhattan yet politically united as part of City Council District 8 which is split between East Harlem and several South Bronx neighborhoods.
But we strongly feel that we should just annex the island and get it over with. During low tide the island LITERALLY touches the mainland so twice a day you can easily walk over. Luckily we can do that now that the Randall's Island Connector is open in Port Morris so we don't have to get our shoes dirtied.
The Blauzes
Wikipedia says:
"The Blauzes are two small New York City islands in City Island Harbor which are part of a reef extending 600 yards northwest of the northern tip of Hart Island. They are composed of Manhattan schist bedrock with a slightly bluish tint and are semi-hemispherical in shape.
The Blauzes means "Little Blue Ones" in Belgian French. The name comes from the Belgian Huguenots, who were the first Europeans to settle the area. They are jokingly referred to by local residents as the Blue Breasts because their odd shape resembles that of a voluptuous woman's bosom.
The pair are part of the Pelham Islands."