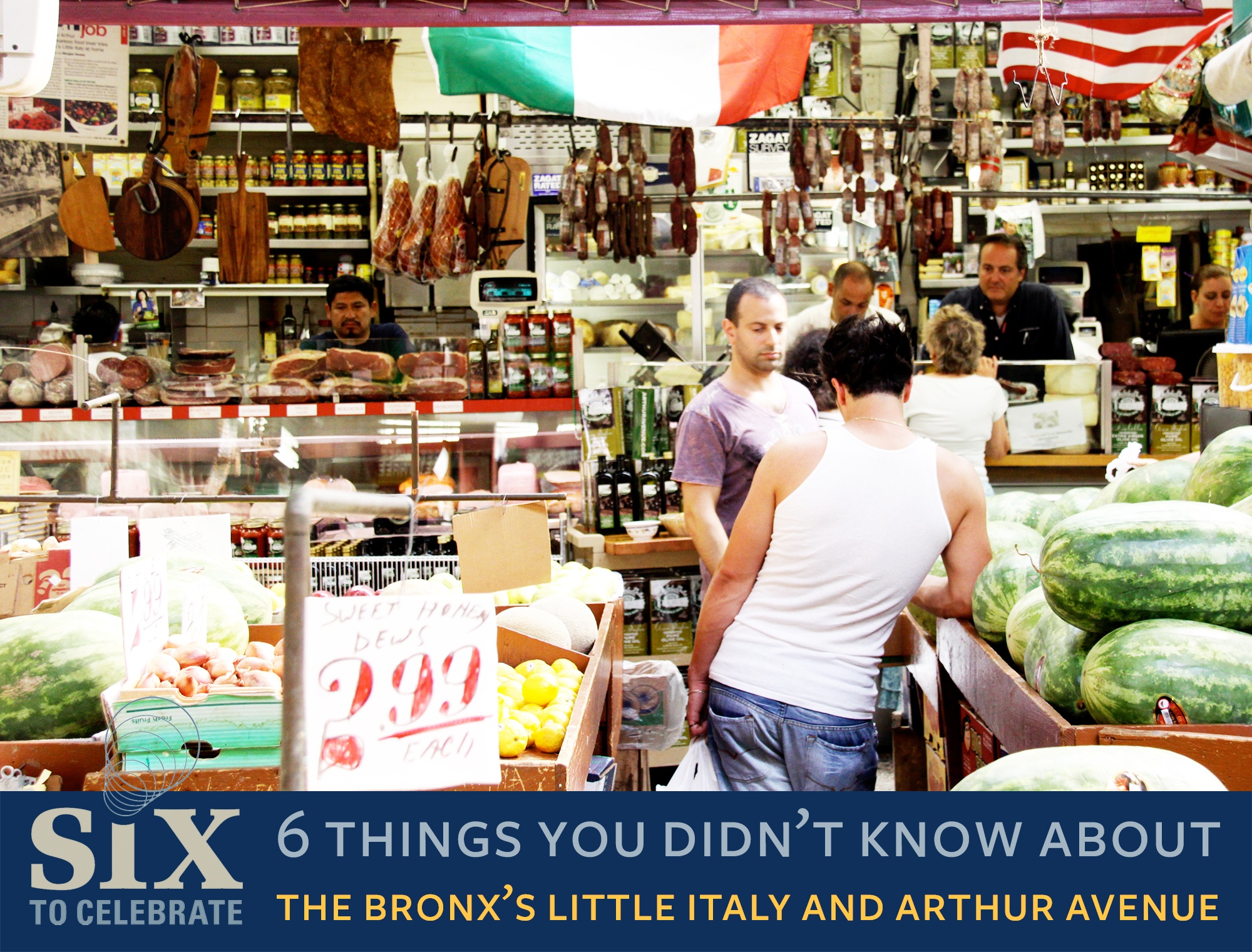 Thanks to 6sqft for letting us syndicate this wonderful historical piece on Arthur Avenue. Make sure to follow 6sqft for more great pieces on real estate and history in NYC!
This post is part of a series by the Historic Districts Council, exploring the groups selected for their Six to Celebrate program, New York's only targeted citywide list of preservation priorities.
The Bronx's Belmont community can date its history all the way back to 1792, when French tobacconist Pierre Abraham Lorillard opened the Lorillard Snuff Mill as the first tobacco firm in the country, and possibly the world. European influences continued to proliferate in the area, and at the turn of the 19th century, flocks of Italian immigrants moved to Belmont to take jobs in the newly opened Botanical Gardens and Bronx Zoo. By 1913, the neighborhood was referred to as the Italian "colonies" in the Bronx.
Today, Belmont's main artery, Arthur Avenue, still thrives as a bustling Italian center, with countless restaurants, pastry shops, butchers, and more. But there's a lot more to Belmont than just spaghetti and cannoli. From the origins of a pasta shop's sign that's now featured on Broadway to a Neapolitan restaurant that was born in Cairo, Egypt, the Belmont BID shares six secrets of this saucy neighborhood.
Photo via Gary Stevens/Flickr
1. The storefront sign of Borgatti's Ravioli & Egg Noodles, a long-time business on East 187th Street, is now featured on the set of the Broadway musical "A Bronx Tale."
Thanks to their upbringing, Lindo and Maria Borgatti were both skilled pasta makers, and in November of 1935, they pooled less than $300 (all the money they had) and rented a storefront on East 187th Street. They gathered pastry boards, rolling pins, wooden benches, and knives from their home and started making egg noodles. Lindo, Maria, and their six sons took turns making the noodles from 6:00am to 8:00pm, and their first pound of egg noodles was sold for 15 cents. Business was slow at first, but eventually, they saved enough money to buy a hand-operated dough press and noodle cutter. Their now famous ravioli was created after their son George made a wooden ravioli board, and six months later they were able to purchase an electric pasta machine, which resulted in increased noodle production.
This enabled them to move to a different (and their current) storefront, and in 1949 they expanded into the adjacent store because business was flourishing. Borgatti's has been written and raved about in highly accredited publications, but Mario remained humble and shared that it is most rewarding to see many of his customers return year after year. Today, egg noodles and ravioli from Borgatti's have traveled across the globe, and Mario's son, Chris, shares that a recent special moment occurred when Chazz Palminteri visited the store. Chris thought that he might want some ravioli for his restaurant, however it turned out the actor wanted to know if the Borgatti's Ravioli sign could be used in his Broadway musical "A Bronx Tale." Chris, of course said yes, and the sign can now be seen on stage at the Longacre Theatre in New York City.
Inside Teitel Brothers, photo by Chris Goldberg/Flickr
2. Even though the neighborhood is known as an Italian community, one of the oldest businesses on the world-famous block of Arthur Avenue is owned by a Jewish family.
Upon entering Teitel Brothers you will see the Star of David in the tile work placed there by Jacob Teitel in the 1930s. Jacob and Morris Teitel settled in the Belmont area from Austria around 1913. The brothers were tailors in their homeland, but opted to make a living in the deli business and opened Teitel Brothers in April of 1915. Their strategy was to provide their customers with a variety of the finest products at the lowest prices. For over 30 years, they've been starting their 18-hour days by constructing a variety of their products on the sidewalk surrounding their store, which is still done to this day.
Before determining the daily cost of the merchandise, they sent a worker to research the competition and adjusted their prices accordingly (this was a common practice). Their families lived in the upstairs apartment, and if the store was ever too busy, Jacob would bang on the pipes signaling for his wife, Esther, to come down and help. Before there was refrigeration, the deli stayed open late (until at least midnight on Fridays and Saturdays) to satisfy their customers' after-dinner shopping needs. Slowly but surely, Jacob recruited his sons, Louis, Ben and Gilbert to work on Sundays, however they all started by first learning how to push a broom through the store. Once that was mastered, the boys were allowed to sell nuts, figs and dates outside during the holidays, and they worked their way up to balancing school and deli work, full time. With the changing times, business had to keep up, as well, and electronic scales and slicers were introduced. Today the family and team, currently in their third generation, still provide a variety of the finest products at the lowest prices.
Mario's via Wiki Commons
3. Mario's Restaurant was one of the first restaurants on Arthur Avenue and has been serving first-rate Neapolitan fare since 1919, but did you know that the restaurant has roots in Cairo, Egypt?
Joe Migliucci's great-grandfather and grandfather left Naples in the early 1900s and opened the first-ever Italian restaurant in Cairo. The restaurant was a success, but his grandfather became restless and decided to come to America. Mario's Restaurant was opened on Arthur Avenue by Joe's father, grandfather, and grandmother nearly 100 years ago, and while it is much bigger today, it still operates on the same site. Over the years, many well-known people have dined here, including Governor Rockefeller, Anna Moffo, Elizabeth Taylor and Eddie Fisher. The restaurant is even mentioned in the film "The Godfather." In fact, the filmmakers reportedly wanted to shoot scenes in the restaurant, but the Migliucci family refused, fearing bad publicity.
Watch our video on Little Italy

Google Street View of Madonia Bakery
4. Peter Madonia, Sr., of Madonia Brothers Bakery, was literally born into the family business!
Mario Madonia arrived in the United States in the early 1900s from Monreale, Sicily, and settled in the Arthur Avenue neighborhood in the pursuit of a better life for his family. He started baking bread as part of a co-op known as the Reliable Bronx Italian Bakers. The building, located at 2385 Arthur Avenue, still bears the name. His son Peter's entry into the neighborhood, however, is a bit more unique.
During Prohibition, the streets of the neighborhood were made one-way because the police wanted to make it harder for bootleggers to escape. During a car chase on May 15, 1924, a local bootlegger's car crashed through the window of Madonia Brothers Bakery. While Mario was in the back baking, his wife Rose, who was seven months pregnant, was working in the front and the shock from the crash sent her into premature labor and she delivered her son in the bakery. The baby's survival was doubtful, however, his parents persevered. They lined a shoe box with cotton and placed the baby in it by the oven for warmth, which effectively acted like an incubator. Each day he grew stronger and 11 days later, on May 26th, Mario and Rose finally registered their child with the Department of Health. Peter went on to run the family business, which is still family-owned and operated today.
Pushcart vendors on Arthur Avenue in 1940, courtesy of the Library of Congress
5. The Arthur Avenue Retail Market at 2344 Arthur Avenue was the first enclosed retail market in the Bronx.
Joseph Liberatore was born in Connecticut in 1919 but spent his formative years in Italy. Upon his return to the United States in 1936, he chose the Bronx's Little Italy as his home, establishing himself as a neighborhood pushcart vendor of fruits and vegetables. His days began at 2:00am when he would take the train to the South Street Seaport to order the day's merchandise. Once everything was gathered, he would return to Arthur Avenue where he retrieved his cart from a basement warehouse.
Arthur Avenue Retail Market via Wiki Commons
This six-day-a-week routine continued until 1940, when the Arthur Avenue Retail Market was established, enabling Joseph and more than 100 other street vendors to rent indoor stands to sell their products for a fee. Some vendors were afraid of the change and thought customers wouldn't want to come inside to shop, but Joseph always had pride in the quality of his products, which kept his customers coming. At the age of 80, Joseph decided it was time to pursue a less strenuous business and began selling plants, flowers and vegetable seeds from Italy in the Market instead. Because of his 75 years of working in the neighborhood, Joseph was aptly named the "Mayor of Arthur Avenue" and he continued his plant business until his death in 2011. Today, the business is run by one of his five children.
The Bronx Beer Hall, courtesy of the Belmont BID
6. The Bronx Beer Hall, located in the Arthur Avenue Retail Market, celebrates Bronx heritage; its tables are even made from reclaimed wood from a farmhouse upstate owned by Jonas Bronck himself.
When Anthony Ramirez II and Paul Ramirez started promoting the Bronx over a decade ago with the launch of their borough-branded apparel and accessories business, FromTheBronx.com, they never thought it would lead them to open a bar in the heart of Little Italy. After a particularly long day, the brothers were in search of a place to relax and enjoy a beer, but couldn't find such a place. They then set out to establish a bar that would showcase their love of the Bronx while fostering a sense of community pride within the historic Arthur Avenue Retail Market.
An instant classic when it opened in 2013, the Bronx Beer Hall features new age beer and an original menu sourced from their Arthur Avenue neighbors, many of whom were initially skeptical of the idea. Yet, two years later, in 2015, the Bronx Beer Hall was voted as the Readers' Choice Best Bar in NYC by Time Out New York. Patrons appreciate how the bar celebrates and honors the Bronx in its many details, including tables made of reclaimed wood from a farmhouse that Jonas Bronck owned upstate and a logo that includes a deconstruction of the Bronck Family crest and the colors of the Bronx County flag.
About this Six to Celebrate group:
The Belmont Business Improvement District (BID) is committed to promoting and expanding the economic well being of the business community, and the community at large, by promotion of the "Little Italy in the Bronx" brand, the area's strong ethnic heritage and leadership in the culinary marketplace, and by leveraging the mercantile, social, political and cultural assets within and around the community.
+++
This post comes from the Historic Districts Council. Founded in 1970 as a coalition of community groups from the city's designated historic districts, HDC has grown to become one of the foremost citywide voices for historic preservation. Serving a network of over 500 neighborhood-based community groups in all five boroughs, HDC strives to protect, preserve and enhance New York City's historic buildings and neighborhoods through ongoing advocacy, community development, and education programs.
Now in its eighth year, Six to Celebrate is New York's only citywide list of preservation priorities. The purpose of the program is to provide strategic resources to neighborhood groups at a critical moment to reach their preservation goals. The six selected groups receive HDC's hands-on help on all aspects of their efforts over the course of the year and continued support in the years to come. Learn more about this year's groups, the Six to Celebrate app, and related events here >>