Welcome2TheBronx has written extensively on the need to build a subway line that would run from The Bronx and straight into Queens and onto Brooklyn, bypassing Manhattan completely.
Now New York State Assembly Member Latrice Walker has introduced a bill up in Albany that, according to City Limits, "…would require the MTA to conduct a feasibility study on The Triboro— a proposal from the Regional Plan Association (RPA), first introduced in 1996, to build a 24-mile train route along an existing rail right-of-way stretching from Co-op City to Bay Ridge. "
For far too long our transportation network has been Manhattancentric, and although rightfully so in many ways, it doesn't help the millions who live in the outerboroughs where 48% of job growth occurred in New York City since the end of the recession and in 2018 accounted for 60% of that growth.
Imagine being able to get on a train in Co-op City making a few stops in The Bronx before heading into Queens and on to Brooklyn? It would drastically cut commute times between both boroughs for millions of residents.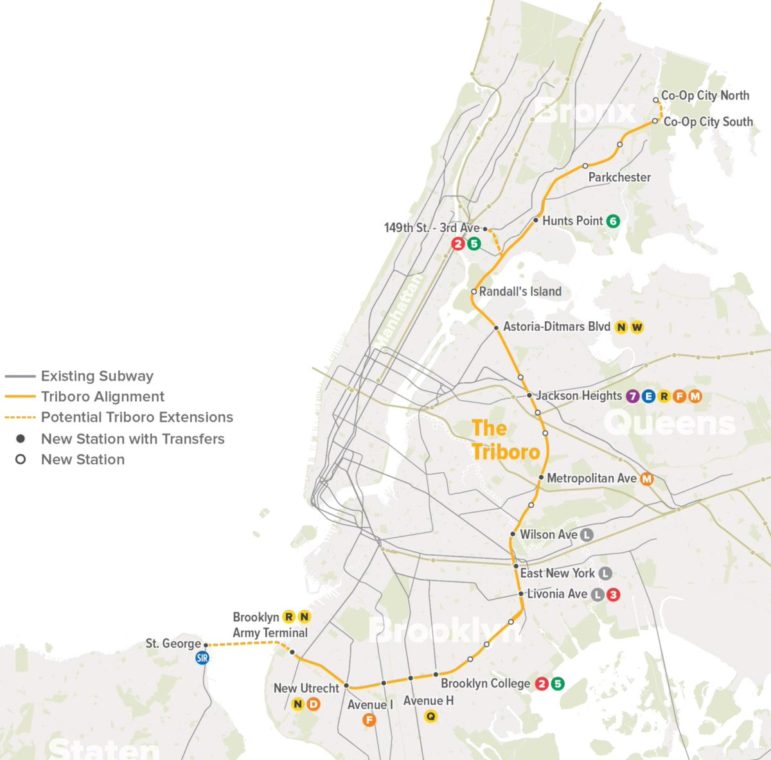 As we reported in 2017 when the RPA re-introduced the idea, the line would be constructed along existing rail lines and would have 22 stations stretching across the 24 miles between Co-op City in The Bronx and Bayridge Brooklyn.
The proposed stops in The Bronx would be Co-op City North, Co-op City South (hurray for attempting to make things right at Co-op City, long neglected and soon to lose connecting bus service along several routes), Parkchester, and Hunts Point.
A proposed spur would be extended under St Mary's Park using the old and inactive Port Morris Line to connect to The Hub at 3rd Avenue and 149th Street at the 2 and 5 line in Melrose.
There's even a proposed extension that would take it straight into Staten Island at St George, connecting it to the ferry and Staten Island Railroad.
As the train snakes its way across the three boroughs, it would give commuters the ability to transfer to 17 subway lines and four commuter rail lines the route connects with.
The best part is the price tag. According to the RPA, the cost would be anywhere from $1 billion to $2 billion which is drastically less than the $4.45 billion it cost to construct two miles of subway for the Second Avenue Subway and its three new stations along with an expanded, existing fourth.
And for what? To service the Upper East Side?
For that money we could have gotten an actual subway line that would serve the majority of New Yorkers and not just a handful.
Anyway, this is still a pipe dream and if it were to become a reality it probably wouldn't be for decades given how the MTA and the State likes to delay things.
There's also the issue that the line would utilize right-of-way rail that's owned by the LIRR, Amtrak, and CSX freight service. Trying to get just one to agree to anything (look at the debacle and delays with The Bronx's upcoming four new Metro North Station. Amtrak basically held us hostage on that).
So what do you think? Do you think this is a no-brainer and should be approved?
We certainly think so.