For hundreds of years, the South Bronx waterfront along the Harlem River has been home to industries including J.L. Mott Ironworks who's founder gave way to the eponymous Mott Haven.
In more recent decades, particularly the last 50 years, it's been dotted by self-storage warehouses, abandoned lots, a gravel company, all preventing meaningful access by local residents to the waterfront.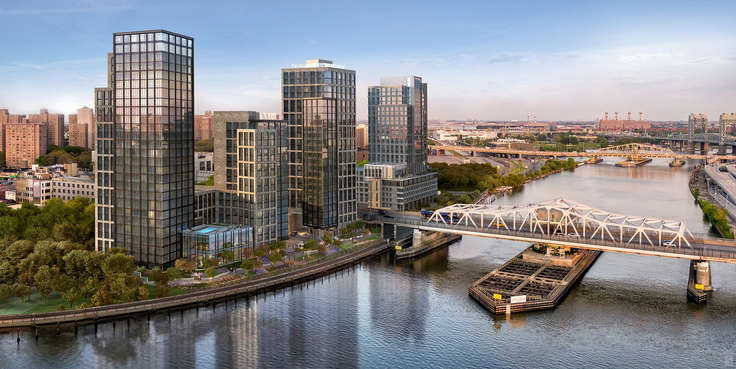 But during the last 12 years, that has been slowly changing especially along a stretch that's less than a mile between the 145th Street and Third Avenue Bridges.
2009 saw the opening of Mill Pond Park directly north of 149th Street and the 145th Street Bridge, the first waterfront park in the area providing direct access to the Harlem River since industry and rail had taken over in the 1800s. Well, direct access isn't entirely accurate since commercial rail still exists preventing actual direct access to the river but nevertheless it still was the first attempt at giving residents what they've been clamoring for decades.
That same year the area directly south of 149th Street and the bridge was rezoned collectively as the Lower Concourse Rezoning along with the Special Harlem River Waterfront District paving the way for turning mostly dormant warehouses and industrial sites into potential, future residential developments.
For years nothing changed. Similar rezoning in Brooklyn, Manhattan, and Queens would be almost immediately followed by construction of luxury housing but in the South Bronx, things marched to the beat of a different drum as developer interest in the country's poorest congressional district was met with hesitancy despite the hype up by would be gentrifiers and real estate industry leaders like Barbara Corcoran who had declared the area the next hottest market in 2006.
Then in late 2014, 101 Lincoln Avenue, at the foot of the Third Avenue Bridge, sold for $32 million and unbeknownst to the general public, it would set off a chain of sales of several other properties within a block from each other totaling over $100 million in record sales at speculative prices.
That's when things began to change and developers truly set their eyes on the area and the potentials of luxury developments and a year later, the new owners of 101 Lincoln and 2401 Third Avenue announced plans for a massive 1,600 unit development and the rebranding of the area as the Piano District which was met with fierce community opposition and the developers, Somerset Partners and the Chetrit Group eventually backed away from the rebranding particularly after an extremely distasteful and tone deaf party with vestiges of a burning Bronx.
The six years since then has seen other record-breaking sales along the waterfront as well as filings and plans for thousands of units of residential development that will forever change the South Bronx's waterfront and skyline.
Bronx Point
Located on stolen parkland that was once fully promised as an extension of Mill Pond Park, construction has begun on the first phase of the 1,045 unit development that will include 542 permanently affordable residential units across 530,000 square foot development including 50,000 square feet for the first and only brick and mortar home for the Universal Hip Hop Museum.
As part of the development, 2.8 acres of land will be developed as part of Mill Pond Park's expansion including the expansion of the waterfront esplanade to the foot of the 145th Street Bridge.
355 Exterior Street
Back in 2018, 355 and 399 Exterior Street, two adjacent lots on the Harlem River waterfront, were marketed as New York City's largest development site and a few months later they were sold for $59 million to the Lightstone Group.
Shortly after, the developer announced plans to create a 2,000 unit residential development with 1,400 units rented at market-rate and the remaining 600 units as "affordable" and even more recently, plans have been filed for a 43 story, 400 foot tall building which would make it the tallest building in the South Bronx.
According to filing plans, the building would contain 710 units and will be a mixed development with just under 11,000 square feet of the 565,497 square foot building set aside for commercial use. No other information has been made public as of yet and no additional filings for the adjacent 399 Exterior Street have been made but it appears this may be the first phase of the 2,000 unit development announced in 2019.
Part of the lot was taken over by the city via eminent domain to create another waterfront park as part of a master plan for the area.
475 Exterior Street, which is directly south of the 145th Street Bridge at 149th Street was leased to the same developer for 50 years for $30.5 million with plans also for more residential development. Given its proximity to 355 and 399 Exterior and separated by what will be a future park, it most likely will be part of the same unnamed 2,000 unit development.
The Arches
While not directly on the waterfront itself, the two 25-story luxury towers rise just feet from the river separated only by Cube Smart's self-storage property, the development has already changed the face of the area as having been the first luxury high-rises to be constructed in the area.
Located at 224-228 E 135th Street directly in front of the Major Deegan Expressway, tenants are already moving into one of the completed towers at The Arches. Once finished, the development will have 450 units of luxury housing across both buildings as well as a hotel.
Last year, a portion of the units were set aside and promoted as "affordable" but at 130% of the Area Median Income, they were anything but affordable especially to local residents in Community Board 1 which encompasses Port Morris, Mott Haven, and Melrose. Rents for a studio under the "affordable" program were listed as high as $2,150. Need we say more?
Meanwhile, rents in the non-regulated units were listed as high as $3,758.
Bankside
This is the development that started the frenzy. Once billed as the Piano District in the former owners' failed attempt to rebrand the area, the development morphed into Bankside once the new owner, Brookfield, purchased the development for $165 million in 2018 in what was and still is the most expensive residential real estate transaction in Bronx history.
Construction is well underway at the site and is being done in two phases. Phase 1, located at 2401 Third Avenue, will contain 450 luxury residential units as well as some set aside as "affordable" across 3 buildings and has already topped out.
Construction on phase 2 has recently begun and the remaining 4 towers will rise at 101 Lincoln Avenue on the other side of the Third Avenue Bridge and will contain the remaining units and both sites will have towers reaching as high as 25 stories.
This is also the most expensive development to date at $950 million.
All developers along the river in the Special Harlem River Waterfront District must also provide public access to the waterfront as well as develop it for use by all in the neighborhood and not just future tenants of luxury housing.
Future of the South Bronx
While there are many other developments going on in the immediate area, just these four alone will bring almost 5,000 units of residential housing in an area that was once dominated by industry.
It is also changing the character of the area as more and more higher income residents flood the area leading to the displacement of longtime residents and small businesses.
While many often assume that gentrification is a literal and direct displacement of people caused by the demolition of one building to make way for taller, higher density and higher income families, the reality is that that is just only one way that it works.
As more and more of these units are constructed, landlords in the area will not hesitate in raising rents as fast as possible within legal limits and will stop at nothing to pressure longtime residents to move out.
We've seen this play out across New York City, whether in Harlem, Chelsea, the East Village, or Williamsburg and others.
Proponents of gentrification argue that it is needed to help improve outcomes in the South Bronx where residents suffer from the highest rates of diabetes, obesity, asthma, unemployment, and in the city but we already know that gentrification won't actually improve the lives of residents and families who have lived here for decades and generation.
It will only improve these statistics for the area through displacement of those who suffer said ills.
We thought we were safe in America's poorest congressional district but we were wrong.
People may have laughed at Barbara Corcoran 15 years ago but in less than 5 years, the South Bronx waterfront and skyline will be completely unrecognizable to the native born and raised children of this once forgotten borough.
Dear reader: Now more than ever, it is important to support local journalism, especially as told by a Bronx-born and raised journalist telling our stories. If you found this or any of our stories informative and enjoyed our photography throughout the past years, kindly consider donating to support local Bronx journalism for decades to come.
Dear reader: Now more than ever, it is important to support local journalism, especially as told by a Bronx-born and raised journalist telling our stories. If you found this or any of our stories informative and enjoyed our photography throughout the past years, kindly consider donating to support local Bronx journalism for decades to come.