Applications are now being accepted via New York City's Housing Connect Affordable Housing program for a new development in the Highbridge neighborhood of The Bronx.
Located at 1169 River Avenue, the brand-new 19 story building has 245 units across just over 200,000 square feet and is being constructed under the Supportive Housing Opportunity Program of New York State Homes and Community Renewal and the Supportive Housing Loan Program of the New York City Department of Housing Preservation and Development.
The building is just steps away from the 167th Street station on the 4 subway line and is just a few blocks away from Yankee Stadium and Reverend T. Wendell Foster Park and Pool.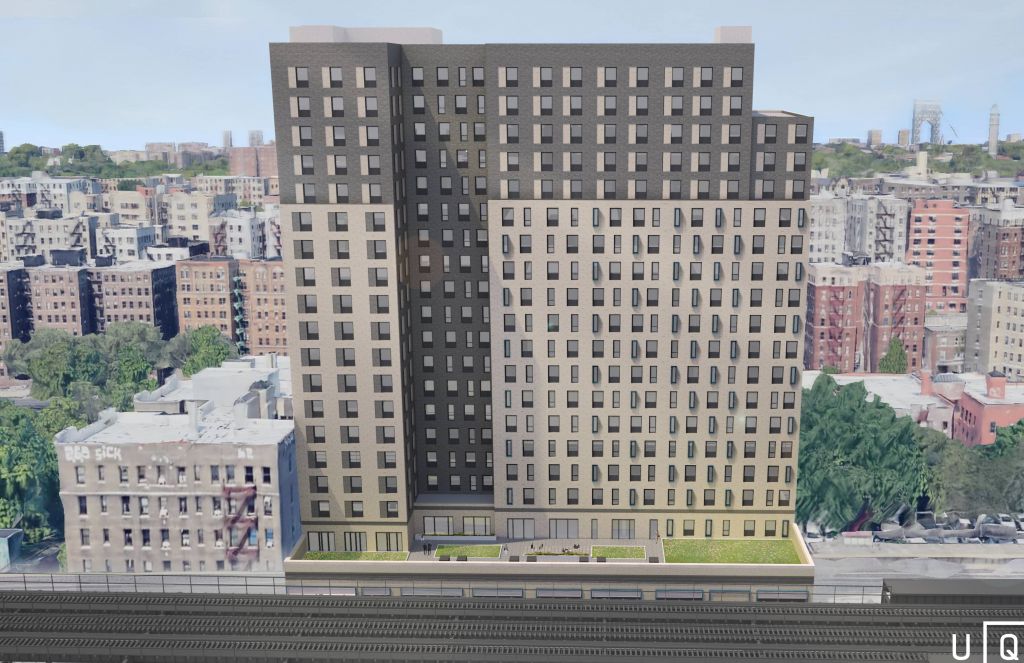 Of the 195 units, 60% are being set aside for the most vulnerable New Yorkers which includes the formerly homeless and people with disabilities and the remaining 40% of the units, which this lottery is for, is for households making 60, 70, or 80% of the Area Median Income.
Amenities at 1169 River Avenue include bike storage lockers, standard shared laundry room, air-conditioning, a playground, a community center, private outdoor areas, a party room, a business center, a recreation room, an outdoor terrace, concierge, a gym, common area Wi-Fi, smart controls for heating and cooling within individual apartments, and best of all, it is a pet friendly building which even accepts large dogs.
The rents, unit breakdown, and income requirements for 1169 River Avenue are as follows:
60%
$843 a month for studios for households making $31,852-$64,080
$1,065 a month for 1 bedroom units for households making $39,875-$72,060
$1,570 a month for 3 bedroom units for households making $58,492-$99,380
70%
$1,003 a month for studios for households making $37,338-$74,760
$1,760 a month for 3 bedroom units for households making $65,863-$115,850
80%
$1,163 a month for studios for households making $42,823-$85,440
$1,465 a month for 1 bedroom units for households making $53,589-$96,080
$1,170 a month for 2 bedroom units for households making $65,109-$115,280
$2,037 a month for 3 bedroom units for households making $75,360-$132,400
Please note, for each unit, there are other requirements such as number of people per household and further income requirements based on household size so refer to the Housing Connect website for further details.
The development is one of several new buildings constructed within the massive Jerome Avenue Rezoning District that was approved back in 2018 and encompasses over 70 blocks in an effort to create at least over 3,000 units of affordable housing.
To date, at least 1,400 new affordable units have been constructed in the five years since the rezoning was approved and made into law.
How to Apply
For those interested in applying, you have until June 12, 2023 and you can do so online or you can request an application by mail by sending a self-addressed envelope to:
Victory Commons
c/o Wavecrest Consulting LLC
87-14 116th Street
Richmond Hill, NY 11418
Remember, you can only apply ONCE and you may not apply both online and by mail. Applying more than once can and will disqualify you according to the lottery rules.
5% of units are set aside for individuals with mobility issues and 2% for those with vision and/or hearing impairments. 50% preference for residents of Community Board 3 (to see which community board you live in, click here), and 5% for New York City employees.
Also, please note: We are NOT connected with this or any other real estate developments and cannot assist you in obtaining an apartment so please do not contact us regarding these units.
Good luck to all who apply!