This year marks the 80th anniversary of the opening of Parkchester in The Bronx—one of the largest condominium projects in the country today.
As a child I was always fascinated by taking shopping trips with my mother to Macy's and the many stores there. The architectural elements of the development kept me entertained for hours.
Early History
From 1861 to 1938, the 129 acre site that would become the world's largest condominium development, was owned by the Archdiocese of New York and was the home to New York Catholic Protectory—an orphanage for boys and girls which, by 1904, housed 2,500 children under the care of the Protectory.
In 1938, Met Life purchased the 129 acre site from the Archdiocese for the grand sum of $5 million. Soon after, Met Life began construction of the massive development which would take 3 years to complete.
The name Parkchester came from the two neighborhoods where the development site was located: Park Versailles and Westchester.
By 1940, the south quadrant was completed allowing for the first 500 families to move in. The rest of development and was completed by 1941 and by 1943 all 12,271 apartments were rented.
But not everyone was welcomed.
Parkchester's Racist Beginnings
When the development opened in 1940, it was a "whites only" development and for 28 years Blacks and people of color could not rent in this beautifully planned community and city within a city.
Despite denials that they never restricted rentals to white-only tenants, according to Parkchester: A Bronx Tale of Race and Ethnicity written by Jeffrey S. Gurock, Frederick Ecker, president of Met Life said in 1943 that, "Negroes and whites do not mix. Perhaps they will, in one hundred years, but they do not now."
Ecker went on to further say that, "…if we brought them to the development it would be a detriment to the city, too, because it would depress the surrounding property" making an indirect reference to the now illegal practice of redlining where banks would deny loans to property owners if a Black family lived on the same block.
Banks would draw a literal red line around that block on a map and anyone seeking a mortgage would be denied due to "negro infiltration".
This is the same policy that eventually would lead to the decline of The Bronx.
It wasn't until 1968 that Metropolitan Life finally agreed to allow non-whites to rent in Parkchester after having been directed by the New York City Commission on Human Rights.
Metropolitan Life Insurance had no problem taking money from African American families and people of color but then went ahead and used those same funds to build a development that would exclude blacks and people of color.
Decline
Shortly after integration, that same year, Met Life sold Parkchester to real estate titan, Henry Helmsley who became a slumlord letting the property slide into decline as a result of not maintaining the development.
In 1974, Helmley began converting Parkchester into condominiums beginning with the northern quadrant which is known as Parkchester North and the remaining southern quadrant became Parkchester South in 1986 thus fully converting what was once 12,271 rental units into condos.
But Parkchester continued to decline and suffer despite the conversion.
It wasn't until the late 1990s when the Parkchester Preservation Company was created through investors led by Community Preservation Corp which pumped hundreds of millions of dollars worth of upgrades and repairs after having purchased Helmley's remaining stake which included just over 6,300 apartments and over 80 stores, including Macy's location.
By the early 2000s, things began to turn around for Parkchester and its residents and along with everything else, property values increased for the brave home owners who purchased their units when conditions were bleak.
Parkchester Today
Parkchester was and still remains a place where one can shop, work and live without ever having to step foot outside of the development although most commute outside of the area for employment.
It was built to be a city within a city.
In 1941, Macy's opened its store in the complex making it the second Macy's in the world. The complex has its own post office and up until recently it even had its own movie theater which sadly has been converted to a cheap Marshall's store.
It was constructed with over 100 stores and commercial spaces and all 12,271 apartments are spread across 171 buildings the tallest of which are 12 stories and the shortest 7 stories.
Now all of that might sound quite dense but in reality a little over 50% of Parkchester is actually open spaces and recreational areas with the rest dedicated to its roadways and about 27.5% are actually buildings according to Parkchester's website.
Join 901 other subscribers
Unlike its sister developments of Stuyvesant Town and Peter Cooper Village in Manhattan, also built by Metropolitan Life Insurance Company a few years later, Parkchester was built with beautiful architectural embellishments like medallions above entryways into the buildings, and terracotta statues both atop the corners of the buildings and below.
Divided into four quadrants, Parkchester's center of life revolves around the Metropolitan Oval or simply 'The Oval' which residents know it as. The beautiful landscaped area sits in the middle of the 4 quadrants of development and features a gorgeous water fountain that was designed in 1939 for the World's Fair by Raymond Granville Barker.
Converting to condominiums actually wasn't a bad idea for it created 12,271 units of quite affordable housing for purchase for families at market rates thus allowing people to invest their money into real estate rather than waste away on renting.
Last year Parkchester was listed as the most affordable neighborhood in New York City according to PropertyClub, with a median sales price of $180,000 which is far below the Bronx median sales price of $450,000 and NYC's median of $675,000.
But with the coming Metro North Station directly north of Parkchester which will provide direct access to Penn Station and north into Westchester and Connecticut, that affordability may shrivel up.
The Parkchester of today, when you walk around the neighborhood, is a beautifully integrated community of people from all ethnic backgrounds; white black, Latino, Asian, South Asian of which many are Pakistani and Banlgadeshi (Muslim and Hindu alike), you name it. A beautiful reflection of the people of The Bronx.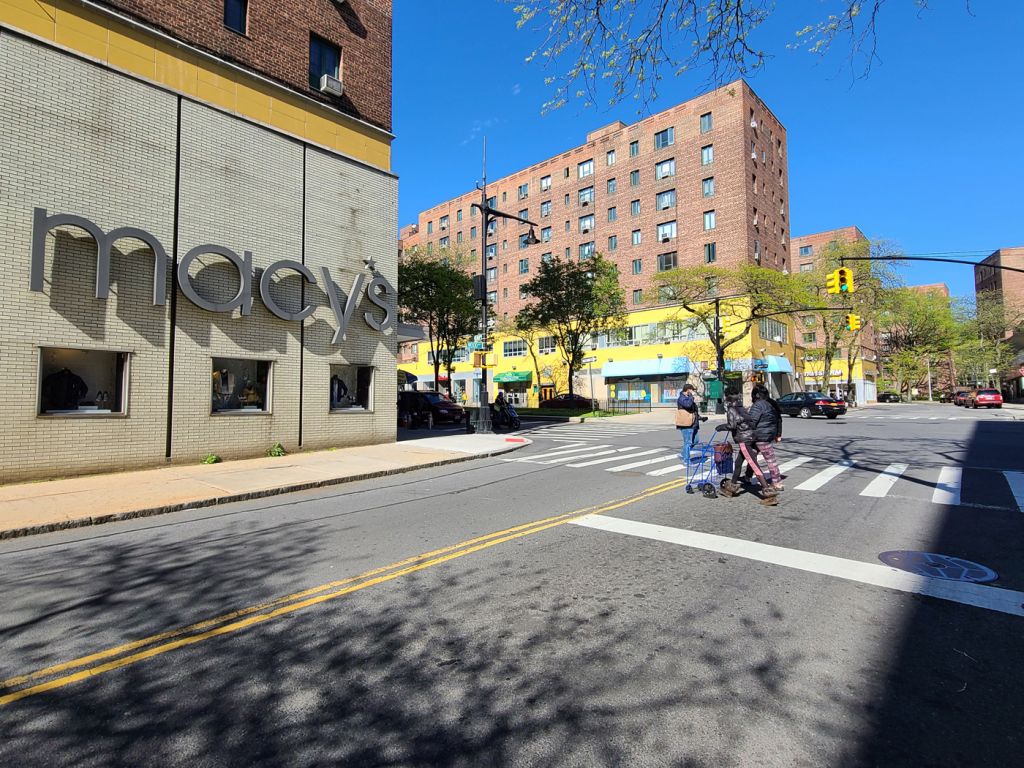 Macy's is still there as is the famous Zaro's, which is back after having closed in 2015 due to increased rents and of course Metro Optics is still right where they started in Parkchester—a real Bronx small business success story now in business for over 40 years.
It's also where Representative Alexandria Ocasio-Cortez, better known as AOC, first lived as a child and moved back to as an adult before winning the primary election which knocked down a party boss and elevated her to not just the national spotlight but the world's stage as a leader. (Oh, don't forget to watch the video of AOC giving Desus and Mero a tour of Parkchester).
Next time you're in Parkchester, remember its history but don't forget to enjoy the architecture. Look everywhere. Just when you think you've seen every medallion and statue, you find one that you didn't see before.
Click an image below to check out the gallery: